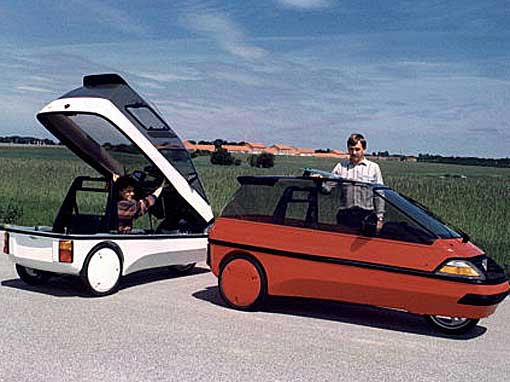 I am a reasonable human being and therefore I have never craved a Mini-el (Ellert). When this thing came out in 1987, I was eight years old and was dreaming of AMGs, Gemballa Porsches and the like. As a young Dane was not particularly particularly proud of the Mini-el being Denmark's (practically) only contribution to the car magazines I then devoured.
Nevertheless it is three-wheeler week, and I found it fitting to do a piece on this little oddity, which I suspect is unknown to many of you. It first came out in 1987 and was called the Mini-el. The public immediately dubbed it "Ellert." A moped is "knallert" in Danish, and since this was in some ways (particularly performance-wise) a three-wheeled electric moped, it was called the Ellert. The basis for its construction was the combination of these facts:
The average Dane had 11 kilometers (7 miles) to work
80 percent of Danes had less than 15 kilometers (9 miles) to work
92 percent of people who commuted to work drove alone
50 percent of public transportation users had a car in their household

Yes, that is right; German luxury car manufacturers may try to one-up Rolls Royce or Jaguar, and Italians sports car manufacturers try to do the same to Lotus and TVR. Denmark, it seems, had its ambitions set somewhat lower: We wanted to one-up the even more minimalistic Sinclair C5.
I do not actually know if there was any inspiration – they do look a bit like each other and were intended to fill the same transportation need.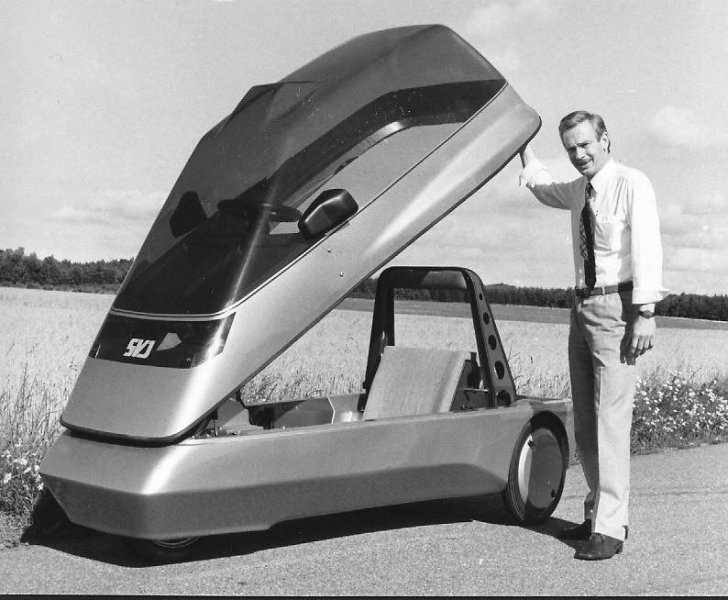 Steen Volmer Jensen with a prototype
The engineer behind the car, Steen Volmer Jensen, thus saw a potential for a new type of short-range vehicle. An electric motor was ideal in the early eighties with the aftermath of the oil crises still impacting people's mentality and the fuel prices. The short range was not a problem since the Ellert was only intended to be used for short distance commuting. A small battery pack was sufficient since it only had to propel one person to and from work.
You may have noticed I have stayed away from labeling the Ellert yet. That is due to it not really being either or in Denmark. It has status of a three-wheel motorcycle; it is neither a proper car nor a proper motorcycle. It is simply an Ellert.

When it was launched it cost 27,450 DKK which I do not know how much is adjusted but the hot version of Car of the Year in Denmark 1988, Peugeot 405 MI16, cost 253,000 DKK at the time. It was a very affordable little machine. The first models came with a Pacific Scientific motor (right) which was later replaced with a Thrige-Titan motor (left). Both pumped out a maximum of around 5 horsepower – or in layman's terms nowhere near a Trasco 1000SEC – fewer decibels too. But I digress.
Since it only weighed 285 kilos (628 lbs) it had a range of 30-50 kilometers (18 – 30 miles) according to the manual. Top speed was listed at 47 kph (29 mph) for the first type and 40 kph (24 mph) for the latter. Performance wise the moped-derived nickname was thus not far off.
While these were pretty common sights in the late eighties in Denmark, there were problems with them early on. After only 150 had been built, they were all recalled to have a stuck relay fixed after it caused one Ellert to burst into flames. When around 500 had been built they were all recalled again; a fuse could get hot and burn through a hose carrying gasses from the batteries. It caused a bang. The story in the newspapers was that an owner said his Ellert "blew up."
At this point opinions of the Ellert were pretty low in the public. In general Danes rarely dream big, so when someone does and build a car from scratch, it is received with skepticism. When said car bursts into flames, it can ruin its future – especially when you combine our Scandinavian genes' fondness for safety (read Volvo and Saab). If something had to break, it had better be something that could cause no harm. Adding fuel to the fire (pun intended) gas prices plummeted through the eighties and the foundation for the Ellert was thus vanishing fast.
The company behind the Ellert was now on life support. In October 1988 El-Trans A/S was declared bankrupt but in May 1989 El-Trans 89 was formed. The Ellert's official name now changed from Mini-el to Mini-el City. The City got the later Thrige-Titan engine. Nevertheless, sales plummeted and by 1995 Danish Ellert production was over.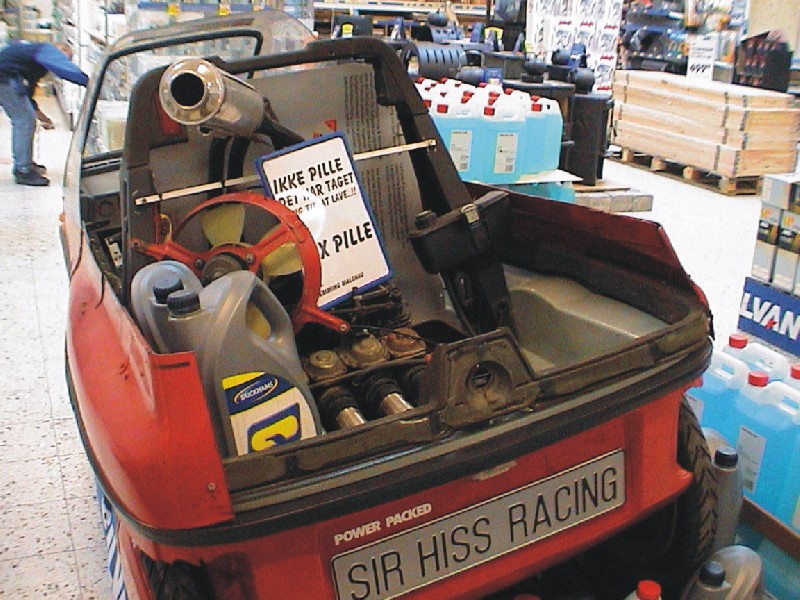 There have been both official and homemade convertible Ellerts – it is basically a matter of cutting Plexiglas.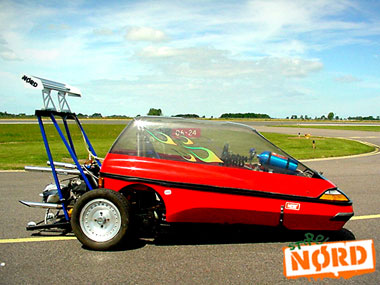 Modifying them with more and/or more efficient batteries is as far as my research shows a somewhat popular option. This one is probably the fastest one out there. It has a 70 bhp Yamaha motorcycle engine and is reportedly capable of doing more than 200 kph. Who said death trap?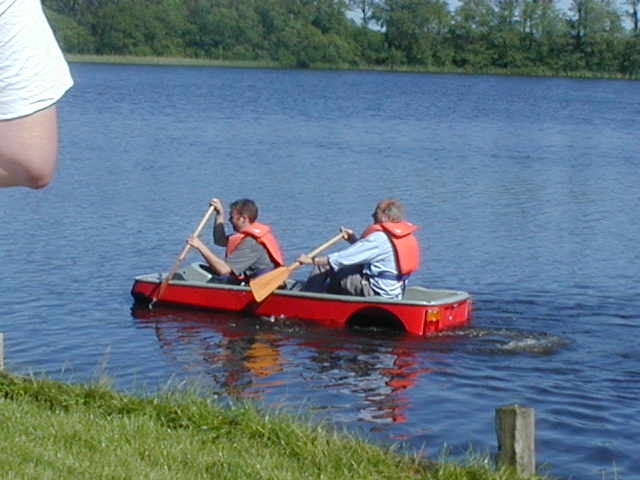 This one was made by a Danish TV show. I do not know the specifics. The propulsion system in it is pretty easy to figure out.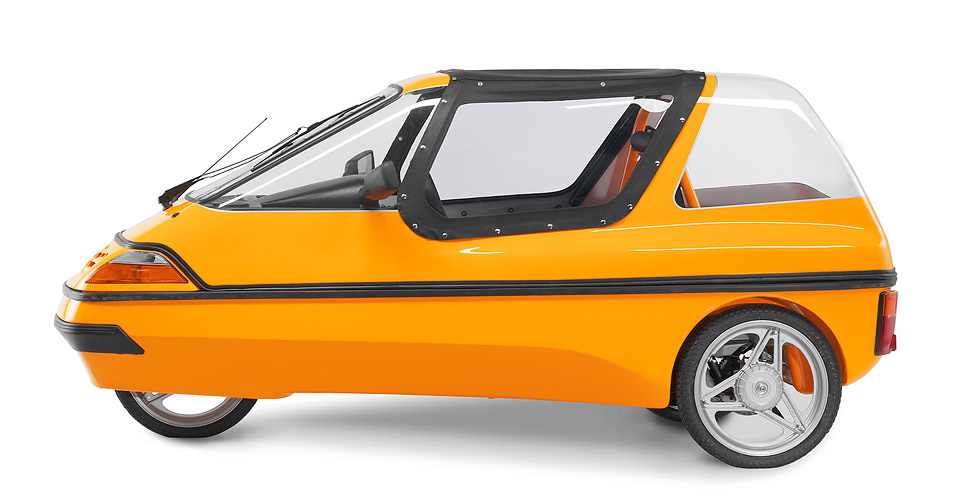 But the most interesting version is the new one. While its father passed away last March, the Ellert lives on in Germany and has done so since production shut down in Denmark in 1995. Smiles e-Mobility (http://www.smiles-world.de/konzept-cityel) still produces them there. They call it the most energy efficient production vehicle in the world. They list a lithium battery model with a top speed of 63 kph (38 mph) and a range of 100-150 kilometers (60 – 90 miles). The listed price is 13,000 USD should you fancy one.
The total production number in Denmark was around 4,000 according to the Motor Journalists' Club Denmark. Smiles e-Mobility says 6,000 have been built. I imagine that number is the total including the 4,000 Danish Ellerts.
I can now appreciate the Ellert as a curious and ambitious vehicle which does make me smile whenever I rarely see one. I still do not love it, but since it is one of very few examples of Danish car building in modern times, I guess it will have to do. Danish cars tend to be either electric or Volvo-based during my life time. I might write up something on some of the others later.