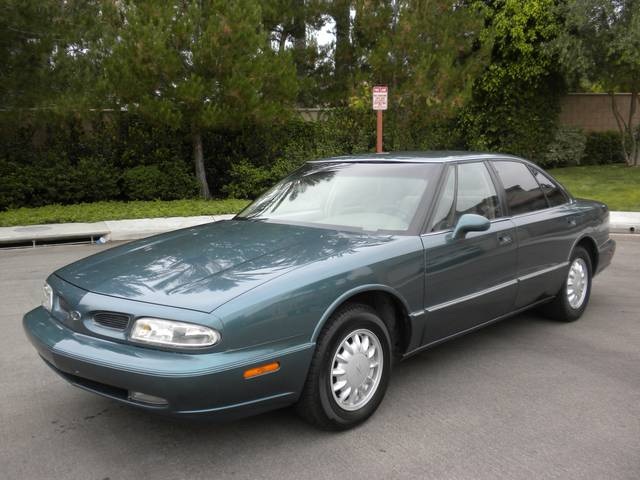 As I recall, it was a bright sunny February morning when I accompanied my grandparents to Quirk Oldsmobile (yes, that was really the dealer's name), where my grandfather was to purchase a new car. It was 1997 and I was three. I've been into cars literally from toddler-age, but I think this was the day that sparked my fascination with real cars, and not toys.
While Papa (my grandfather) was dealing with the salesman, Nana (my grandmother) and I were playing in all the different cars in the showroom. Opening all the doors and compartments was like discovering a whole new planet. I particularly remember my amazement at the sliding doors of the Silhouette. So maybe this is where my interest in minivans stems from? My fun was soon interrupted, as we were ready to go home in the new car.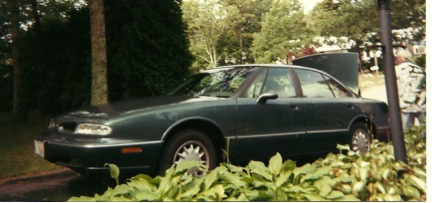 Papa had traded in his gray 1992 Ninety-Eight Regency for a new teal green 1997 Eighty-Eight LS (pictured above, with Papa to the far right). I must say that the neutral-colored leather of the new car, while rather sterile-looking, was softer on the eyes of a young child than the bright red velour of the Ninety-Eight.
Nana and Papa took care of me during the day while my mom was working, so I rode around in this car nearly every day. I will forever cherish fond memories of riding around in the green Olds with my grandparents, with either Neil Diamond, or the Howie Carr talk show blaring on the radio. I even miss its quirks. The jet engine-like sound of the ignition, and the rear windows that went down less than halfway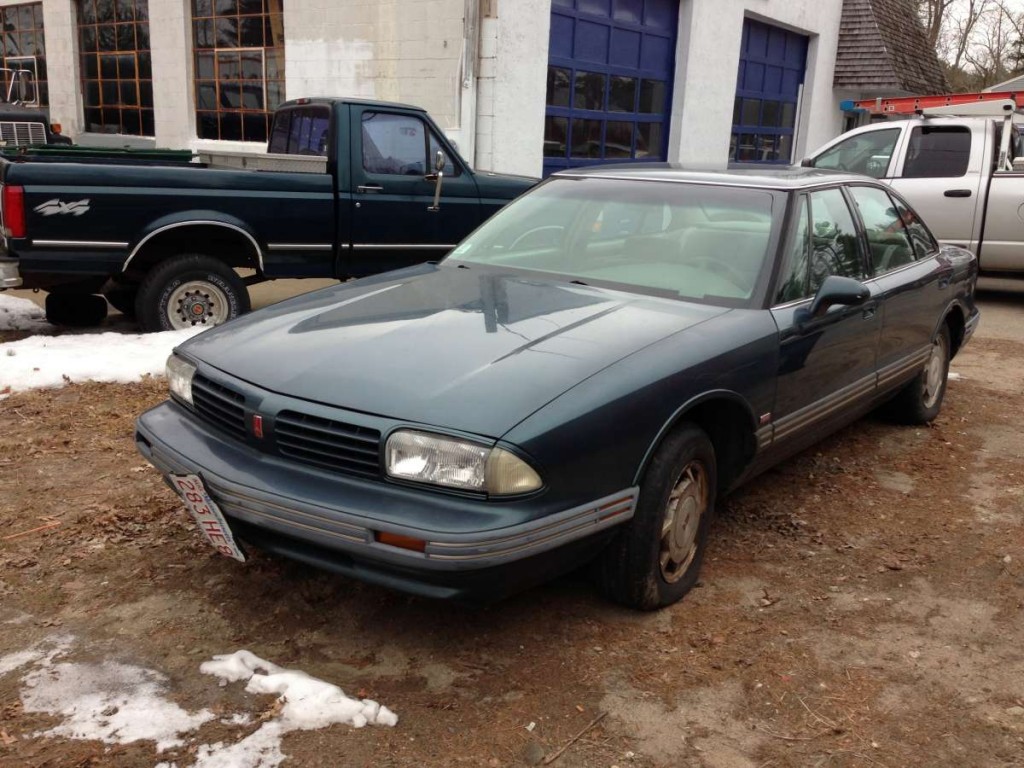 I still see quite a few of this generation Eighty-Eight. Most of them are usually parked in driveways around town, so I decided that this 1994 example, parked at a garage, would be the easiest to shoot. The body of this Eighty-Eight Royale appeared to be in good condition. However, I noticed a reject inspection sticker on the windshield, so it must have been suffering from some mechanical problems. I shot this one back in the winter, and haven't seen it there since. Hopefully it was repaired and is now on the road again.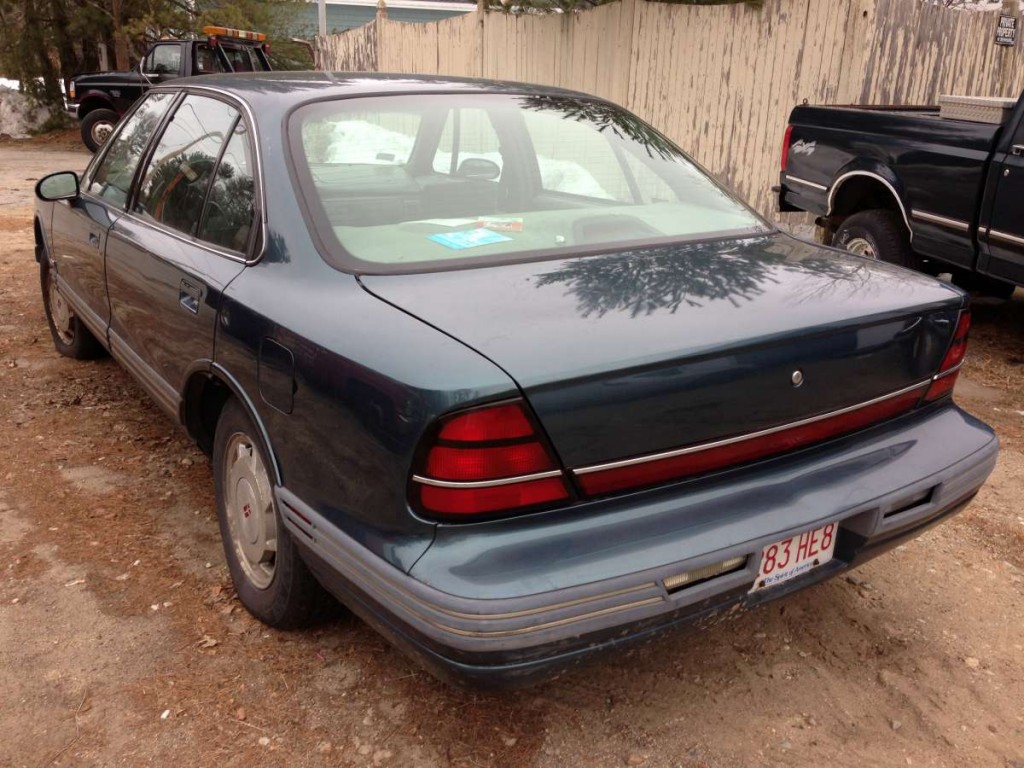 Oldsmobile gave its Eighty-Eight Royale sedan a complete redesign for the 1992 model year. As in generations past, this generation Eighty-Eight (née 88) came exactly one year after a redesigned Ninety-Eight, borrowing styling cues from its larger and more luxurious sibling. Did Olds know that this would be the final generation of its second-longest-running nameplate? It's debatable, but at this point the future looked bleak for the entire marque.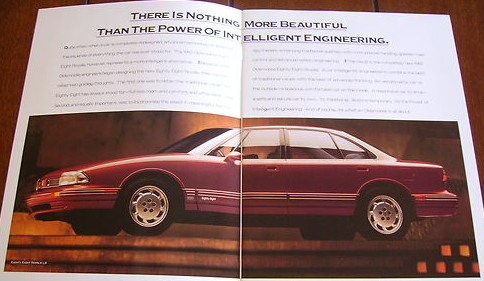 From selling over 1 million cars in 1985, Oldsmobile sales had sharply declined, slipping under the 400,000 mark for 1992. Even a complete redesign of Olds' best selling full-sizer, our featured car, didn't help.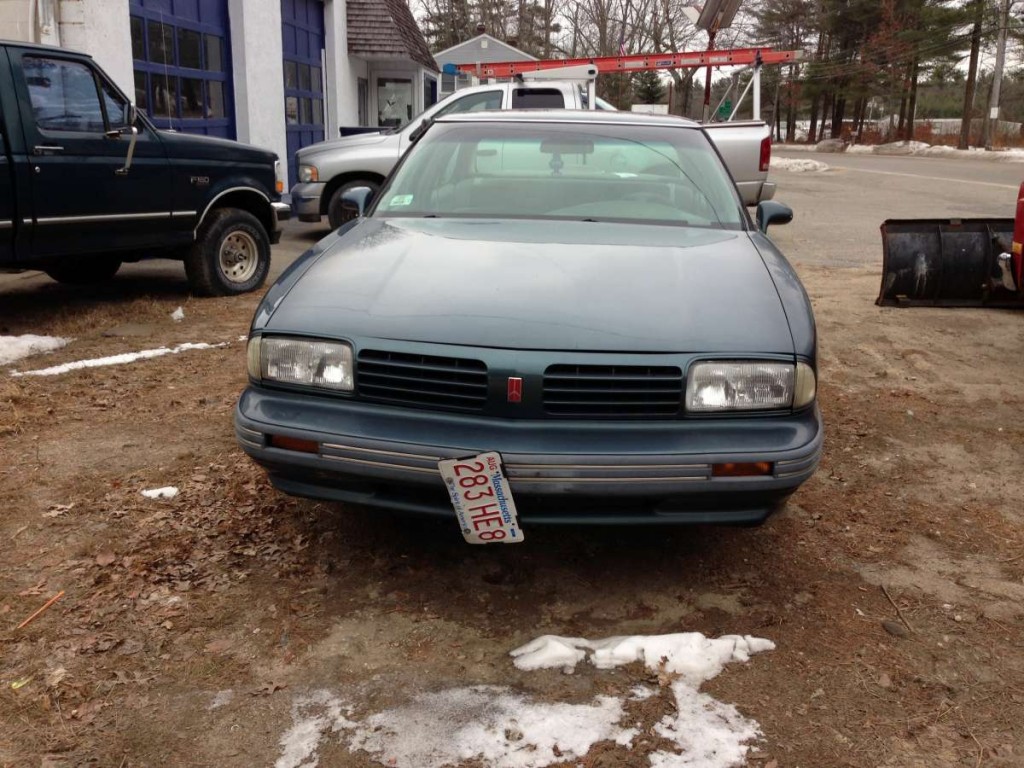 Like its predecessor, the '92 Eighty-Eight (at least we're not talking about an '88 Eighty-Eight) was front-wheel drive, and shared GM's H-platform with the Buick LeSabre and Pontiac Bonneville. Unlike its predecessor, this Eighty-Eight was far more distinctive-looking from its Buick and Pontiac kin, as well as the Olds Ninety-Eight and Cadillac DeVille for that matter. Apparently Lincoln's snooty valet advertisements got to GM stylists.
Riding on the same 110.8-inch wheelbase, '92s were longer, wider, and taller than the '91 models. The aero styling was clean and attractive in my opinion. It fit nicely between the ultra-formal Buick and over-cladded Pontiac. Headlamps, blacked-out A-pillars, and lower body cladding were all borrowed from the Ninety-Eight, though I think they looked better on the Eighty-Eight.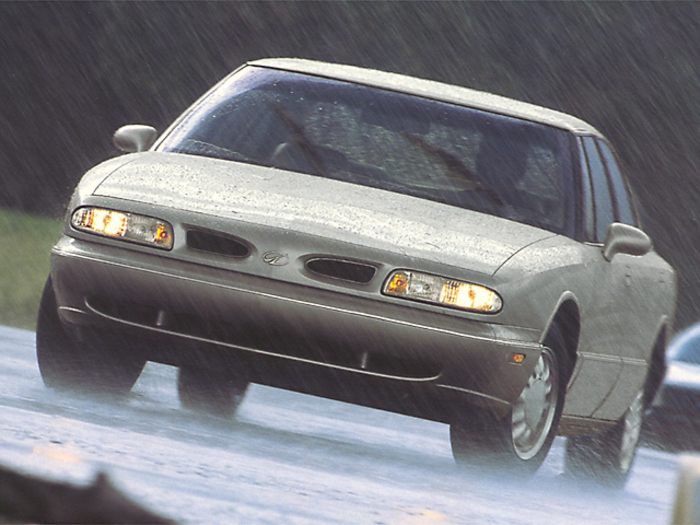 Base Royale and better-equipped Royale LS models were available in sedan only. The 170-horespower Buick 3800-Series I engine was carried over from the prior generation. Changes for '93 and '94 were minimal, save for the typical Oldsmobile grille freshening in 1994. 1995 was the first year of any significant changes. The base engine was upgraded to the Buick 3800-Series II, rated at 205 horsepower.
The Eighty-Eight Royale became the first production vehicle available with a GPS navigation system, GuideStar, a nearly $2,000 option. I feel like the majority of buyers who opted for this feature also comprised one of this car's largest demographic: Hertz. More importantly, 1995 marked the introduction of the performance-oriented Eighty-Eight LSS. Unlike "sport" models of today's family sedans, the LSS actually came with a more powerful engine, a 225 horsepower supercharged version of the 3800.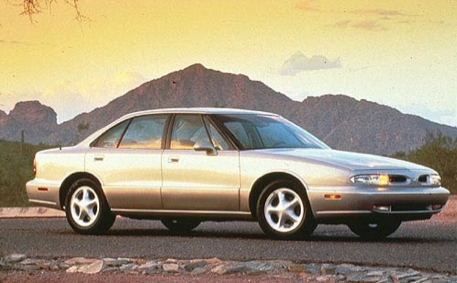 The Eighty-Eight received a significant mid-cycle refresh for 1996. "Royale" was dropped from the car's official title. Exterior changes included an Aurora-inspired front fascia, with ovoid headlights and split grille. Clear-lensed taillights, new wheel styles, and the removal of lower body cladding completed the exterior refresh. Although cleaner and more modern, the '96 refresh made the Eighty-Eight even more anonymous and sedate-looking.
Changes on the inside were subtle with simpler climate controls and new fabrics. Additionally, LSS models received a significant bump in horsepower to 240, new bucket seats straight from the Aurora, a redesigned center console, and 5-spoke alloy wheels. For '97, Eighty-Eights received Oldsmobile's new rocket logo, inspired by (you guessed it!) the Aurora. The LSS ditched the "Eighty-Eight" moniker entirely, and was now considered its own model.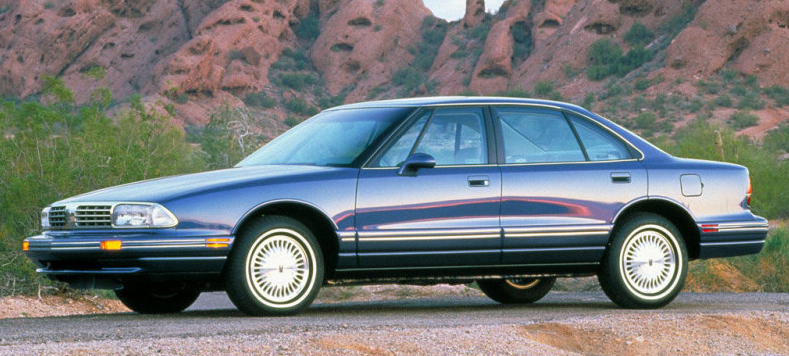 Most peculiar however, was the introduction of the Regency. As part of its plan to "reinvent" itself and appeal to younger buyers, Olds introduced the '95 Aurora sports sedan. The next logical step in this plan was discontinuing the slow-selling and stodgy Ninety-Eight in 1996. But then, in an extremely counterintuitive move, Oldsmobile introduced the 1997 Eighty-Eight Regency.
Basically a pre-1996 Eighty-Eight (front and rear fascia, body side cladding) with the Ninety-Eight's grille, front seats, wheels, and loaded with every available feature, the Regency was intended to compensate Olds' "mature" buyers for the loss of the Ninety-Eight. It even eschewed the new logo in favor of the older rectangular one. Two steps forward, one step back I guess.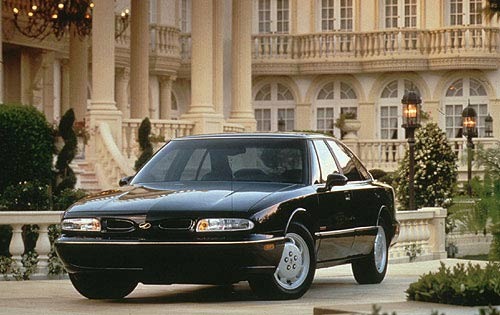 The Eighty-Eight hung on for two more years. 1999 brought a special 50th Anniversary Edition, commemorating the nameplate's 50th, and coincidently its final year in production. Little more than special gold badging, this would be the closest thing to a farewell the Eighty-Eight would receive. Oldsmobile never gave the car a true successor.
A downsized Aurora arrived early the next year as a 2001. Rumor is, this car was actually meant to be the Eighty-Eight's successor, known as Antares, as plans originally called for the redesigned Aurora to be larger and more luxurious. This would make sense, as the 2001 Aurora shared the same wheelbase as the Eighty-Eight's corporate siblings, the LeSabre and Bonneville.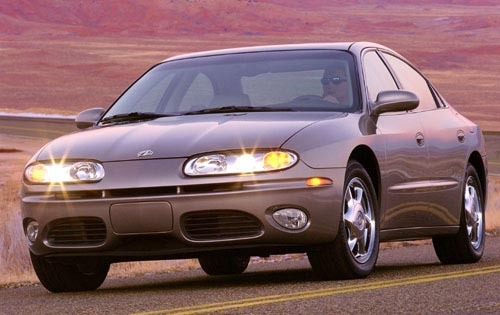 As we know here at Curbside Classic, cars are more than just a mode of transportation. The time spent every day with my grandparents is something that I cherish and never will take for granted. Now that they have both passed on, I treasure these fond memories even more. If there is a car that invokes so many joyous emotions for me, it is this one.