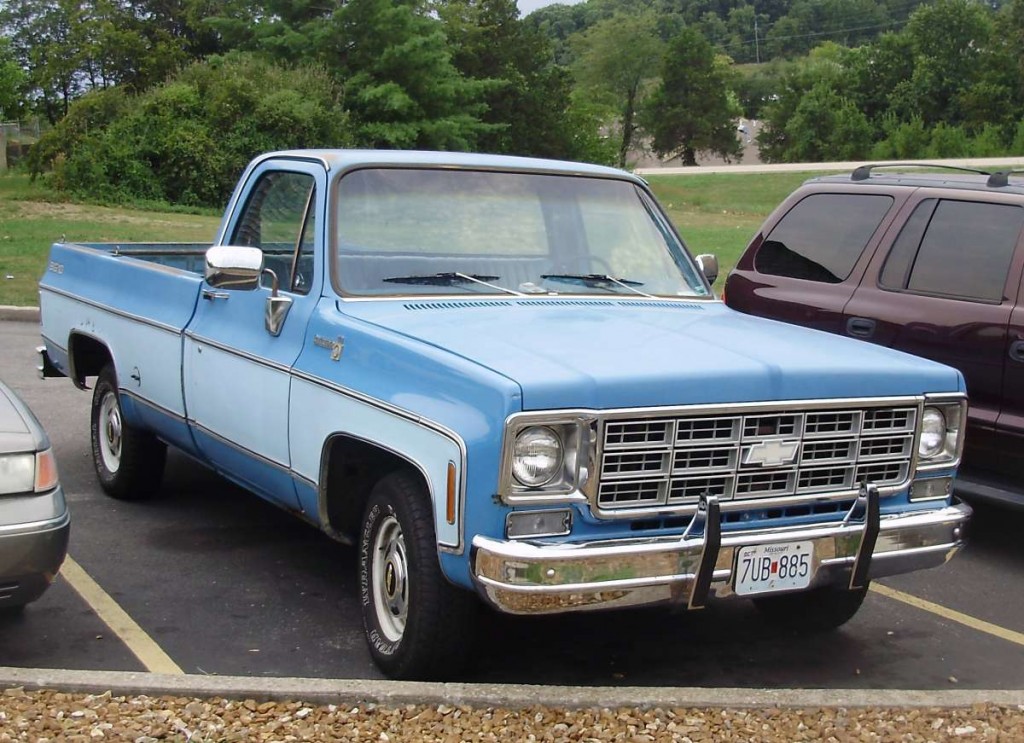 You previously met Albert and Iris in a story about their trip to Houston, Texas, in their 1970 Chevrolet Caprice (here).  Let's fast forward to 1987, when Iris is 60 and Albert is 64.
In the Summer of '87, I was a teenager, and my younger sister and I were spending a few days with my maternal grandparents, Albert and Iris. On one of these hot days I suggested we go fishing, so Grandpa Albert and I threw our poles in the bed of his '78 Chevrolet Scottsdale and dug up some worms. Then we went inside to suggest going fishing. Grandma Iris pulled her fishing license out of the cabinet and, grabbing a clothespin, reached into her shirt and pinned it to her bra strap, thus announcing she was ready to go.  Grandpa Albert and I went back to the pickup.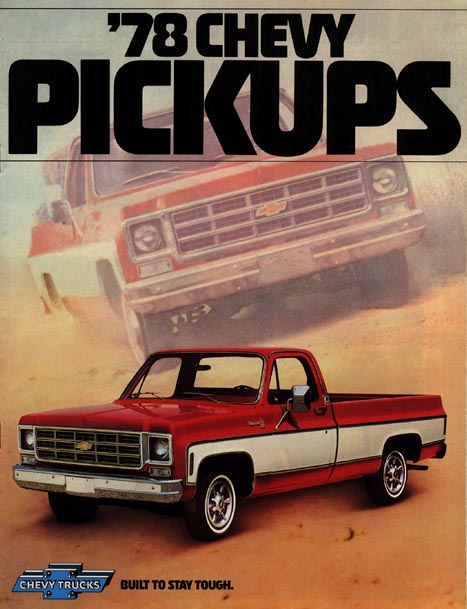 My grandfather had purchased his '78 Scottsdale new, just before he retired in 1980.  His had the standard cab (GM didn't offer extended cabs then) with an 8-foot bed, solid silver exterior and a red interior.  Its only options were an AM/FM radio, tilt wheel, air conditioning, and full wheel covers identical to those pictured above: all in all, a fairly bread-and-butter pickup.
In 1987 it was nine years old, with just under 30,000 miles and more than its share of dings and dents.  Albert was an excellent driver, but driving in reverse wasn't his forte.  Sadly, I now realize that such things can be genetic.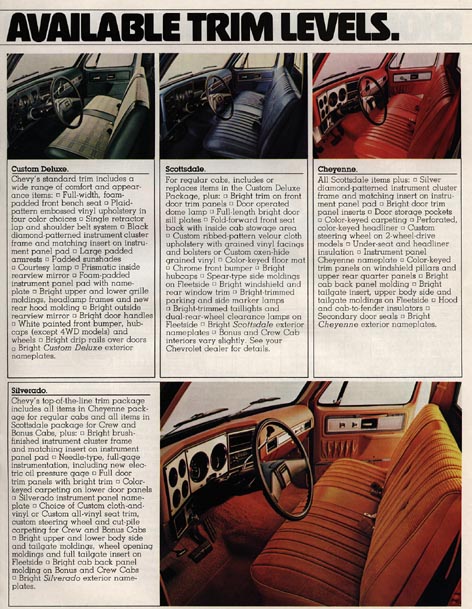 As Grandpa Albert and I sat waiting in the pickup, I eyeballed a plastic spoon that was coated in brown and fused to the red dashboard.  Grandpa Albert spoke up.
"I know, it looks like somebody shit on it.  Ma found a melted Hershey bar in her purse and we ate it."  Mystery solved.
My sister and Grandma Iris trotted out to the pickup.  As the four of us squeezed in, Grandpa Albert fussed about how "these kids are too big to fit in here…Ma, are you going to ride in back?" There wasn't a reply.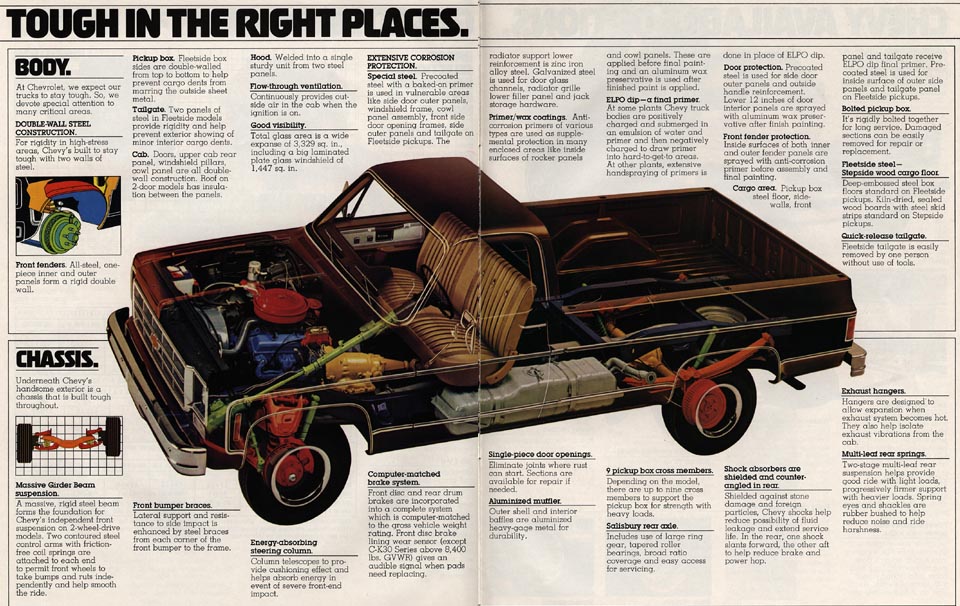 At this point, I must tell you that Grandpa Albert's pickup was equipped with a 305 (5.0-liter) V8 and GM's ultra-trusty and silky smooth three-speed automatic, and that my longtime and great respect for this drivetrain is based on Grandpa Albert's pickup.
Grandpa Albert hit the starter and threw the pickup into Reverse even before the starter motor stopped spinning.  He turned around, dropped it into Drive and then pulled out onto the road.  The uninitiated might think it odd to routinely wind out first gear to 30 mph and then shift from second to third at 37 mph; however, if you want to save fuel, you need to get up to speed as quickly as possible and then back out of the throttle.  This pickup endured such treatment for years.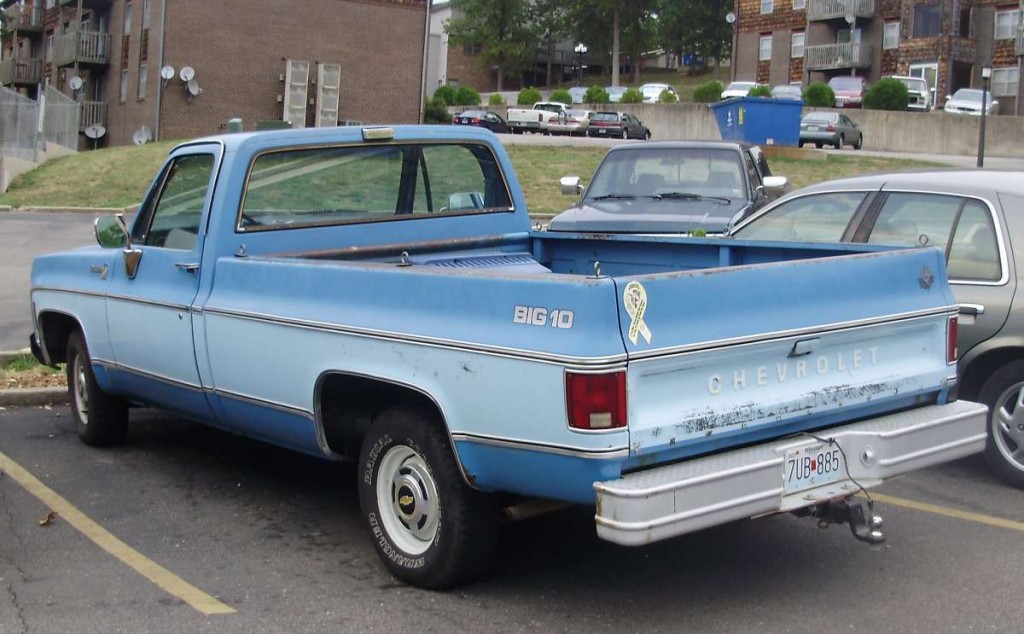 Grandpa Albert drove down a series of county roads for a couple of miles, and then through a plowed field to get to the Mississippi River.  The trip was hot (the pickup's A/C no longer worked due to lack of use), and the roads and field were rough, but his Chevrolet Scottsdale was a rugged pickup.  We parked at the edge of the field, facing the woods and within spitting distance of the river.  The edge of the field overlooking the river had washed out from a recent flood.
The four of us emerged from Grandpa Albert's silver Scottsdale, picked up our poles and headed toward the river.  Once our poles were baited and in the water, Grandpa Albert started walking away into the woods.  Grandma Iris piped up: "Albert, where are you going?"
"In the woods."
"Are you going to take a leak?  You could have done that before we left the house," she said.
"Iris, I am a man.  The world is my urinal."  Grandpa Albert kept walking into the woods.  It was Grandpa Albert's way of saving water, you see.  They still have a patch of dead grass in the front yard, next to the patio and facing the road, that Grandma Iris has never figured out.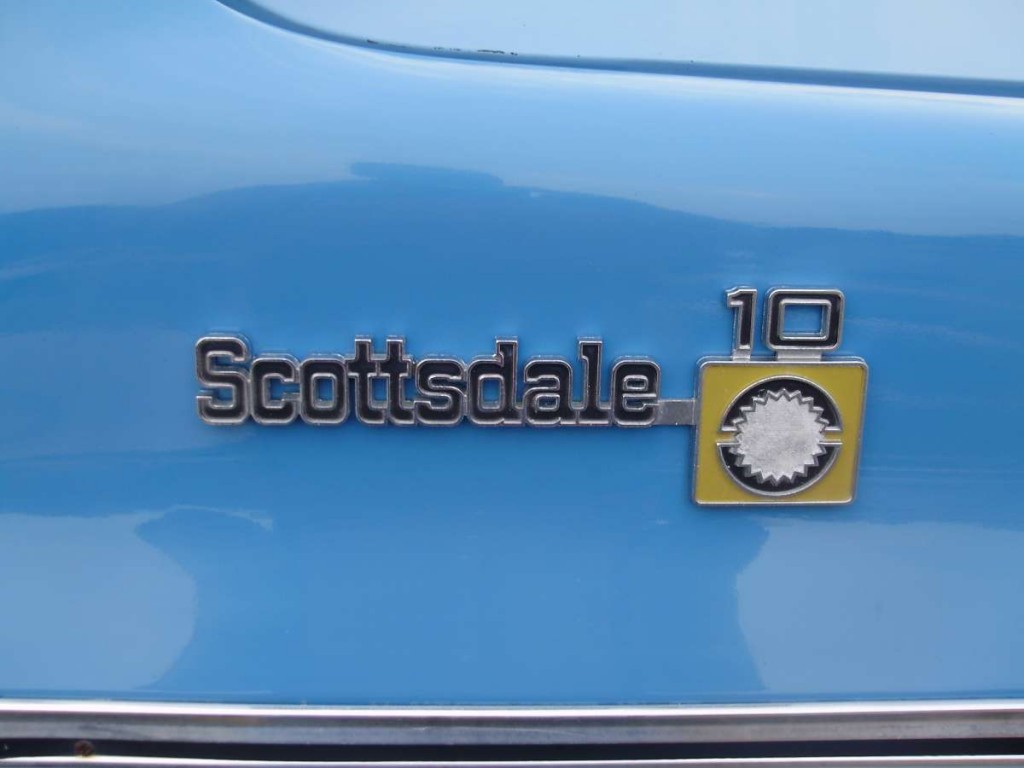 Fishing was bad that day, although my sister did catch a decent-size catfish.
After we'd loaded up and squeezed inside the Scottsdale, Grandpa Albert fired up the 305, threw it into Reverse and immediately put foot into throttle.
"Old man, you are going to hit something," Grandma Iris warned.
"Oh, I won't either."  Grandpa Albert's response was immediately followed by a rough- riding schlump, thud, clang, and "Son of a bitch".
We had backed into the washout.  We got out of the truck and saw that the undercarriage was resting on the crest of the washout and the driver's side wheels  were dangling in the air.  Only the inside edges of the right-side tires (and both bumpers) touched the ground.  There was no traction to be had.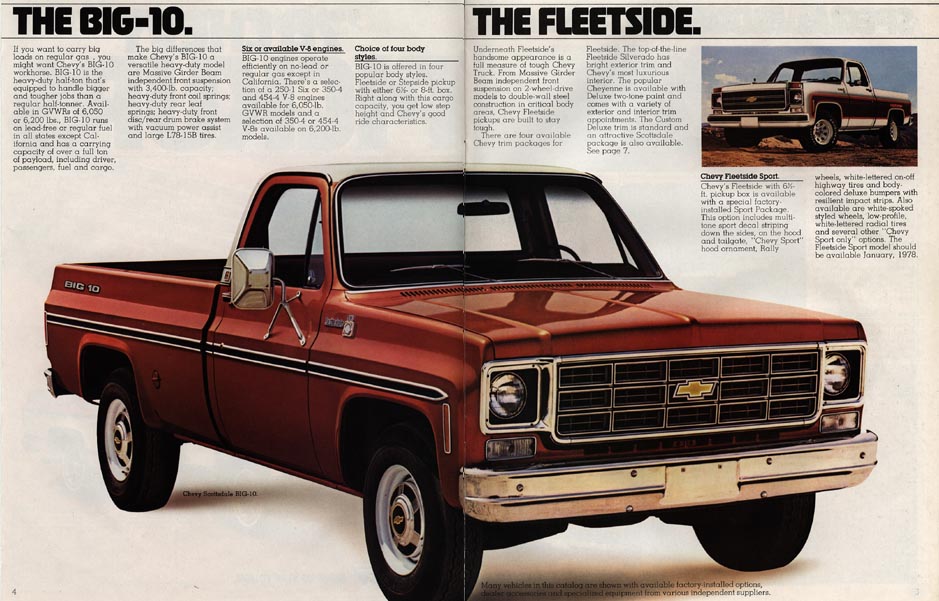 Th usually stoic Grandpa Albert was not happy with what had just happened.  He looked at his pickup, and was completely silent.
"Old man, I told you we were going to back into a ditch.  Now look what you did.  I bet the frame on your pickup is bent. The poor thing looks awfully sad just hanging there.  How do you feel about that?" Grandma Iris had no malice; she didn't intend to kick him when he was down, but was every bit as shaken up as Grandpa Albert.
Now there was even more reason for Grandpa Albert to be angry. That said, I've witnessed many of their interactions during my lifetime and these two are like firecrackers: They blow up fiercely, and then it's over.  That could explain their 66-year marriage.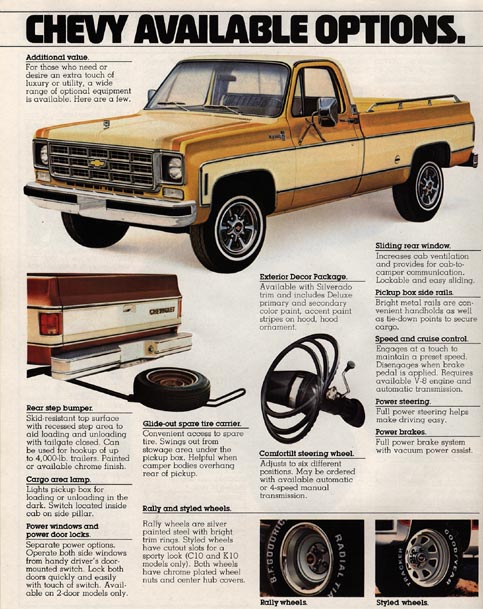 Then Grandpa Albert spoke. "Well, if the son of a bitchin' frame is bent, I'll get rid of it and buy me a new one.  New ones are made everyday.  We better start walking.  I'll pack the poles."
"Albert, nobody will take that thing on trade if the frame is bent," Grandma Iris observed.
"Fine. I can scrap the bastard out.  Use the new one to haul off the old one!" Grandma Iris figured it wise to back off.  Everybody stayed quiet on most of the 20-minute walk back–until I hear, "Old man, your ass is dragging.  Are you okay?  It is awfully hot out here.  I'll make some lemonade when we get home.  It shouldn't be much farther."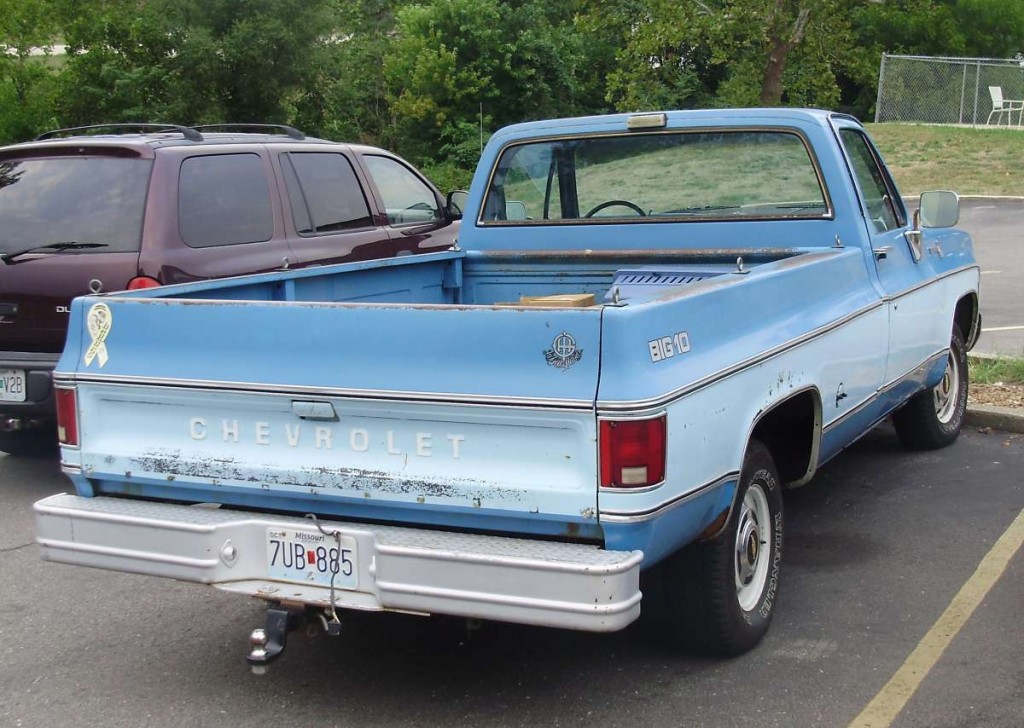 And it wasn't.  The day's only casualties turned out to be Grandpa Albert's pride, and the catfish, which was looking a bit rough before we got to the house and was tossed into a ditch for the raccoons.  And Grandpa Albert's pickup?  A neighbor pulled it out and Grandpa drove it back home.  It was just fine.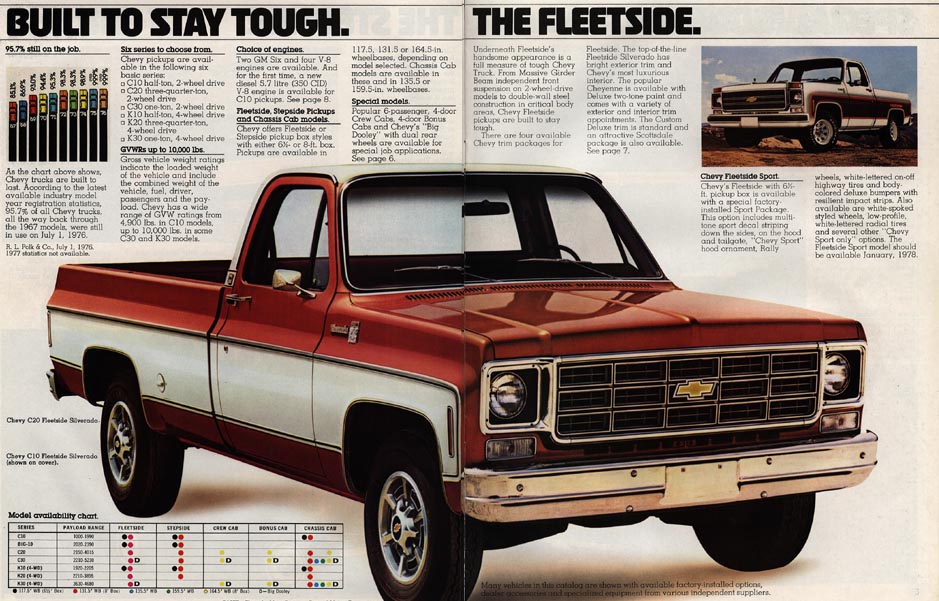 Now there is one small technicality with this look into history: Actually, Grandpa Albert's pickup was a 1979 model whose biggest change from 1978 was a new grille that enveloped the turn signals.  Since rust is so prevalent with this generation of GM pickup in my neck of the woods, I was thankful to find one whose rear fenders weren't flapping in the breeze, thus minimizing the possibility of my needing a tetanus shot.
Here's a '79 on a 3/4-ton chassis; again, no huge physical difference.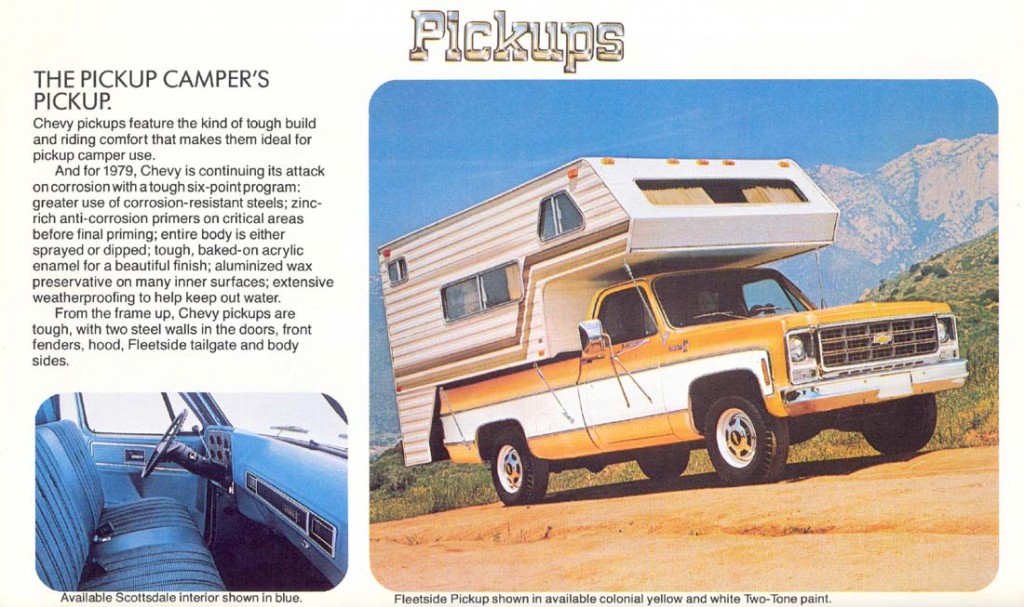 This generation of GM pickup debuted for 1973, and would remain until a new generation came along in 1988.  These days, it's hard to imaging keeping a pickup body style in production for 15 years with only incremental refinements. Still, such longevity was common once upon a time in pickup land, as both Ford and Dodge had similarly long runs from the 1970s through mid-90s.  Certainly, the resulting number of available replacement parts is a big factor in keeping so manyon the road.
By 1978, Chevrolet (and GMC) pickups had started their climb upscale.  In 1977, power windows became available for the first time, and four trim levels, Custom Deluxe, Scottsdale, Cheyenne, and high-end Silverado, were offered in 1978. That year proved to be a good one for General Motors, which sold a total of 1,317,466 Chevrolet and GMC pickups of all weight ratings.
Grandpa Albert kept his '79 Scottsdale until he bought a leftover Ford F-150, which he still owns, in 1992.  He sold the Scottsdale to my Uncle Ron, who drove it another few years before his younger son bent the frame by backing into a tree.