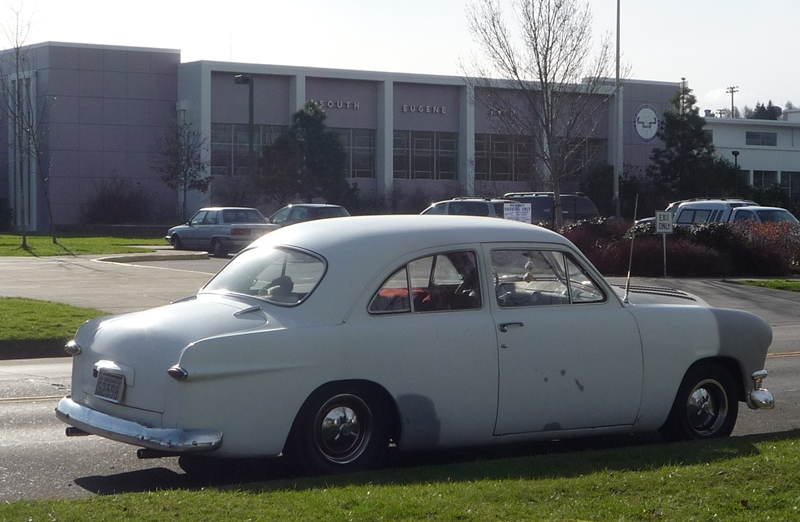 (first posted in 2009)  What are the odds of still being married to your first sweetheart from high school? And of still owning your other first sweetheart, the car you bought for $15 about the same time you met her? And what are the odds of me running into him as he was sitting in his 1950 Ford across the street from South Eugene High School, gazing at the very building where the three of them bonded in 1964? (he was waiting for his grandson, not just reminiscing). Well, luck may have something to do with the last one, but I give this man credit for having a big, unwavering heart and good judgment. But there's got to be more. Sure enough, I uncovered his secret.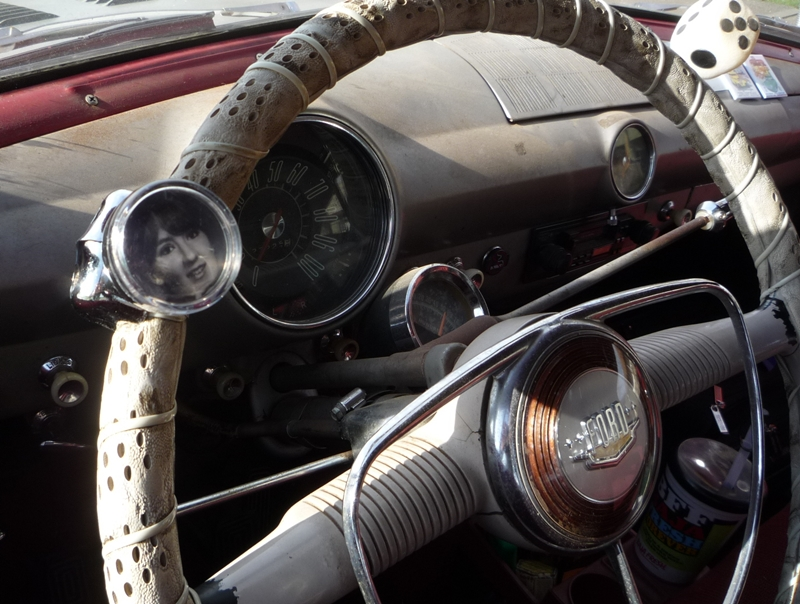 There it is, a necker's knob with a high school picture of his true love, solidly attached to the wheel of his other true love. Do you think he would ever have wavered  from the straight and true, with her adoring gaze beaming up at him wherever he drove? Unfortunately, I forgot to ask whether his wife wears a cameo or locket with a picture of the Ford on it. It only seems right somehow.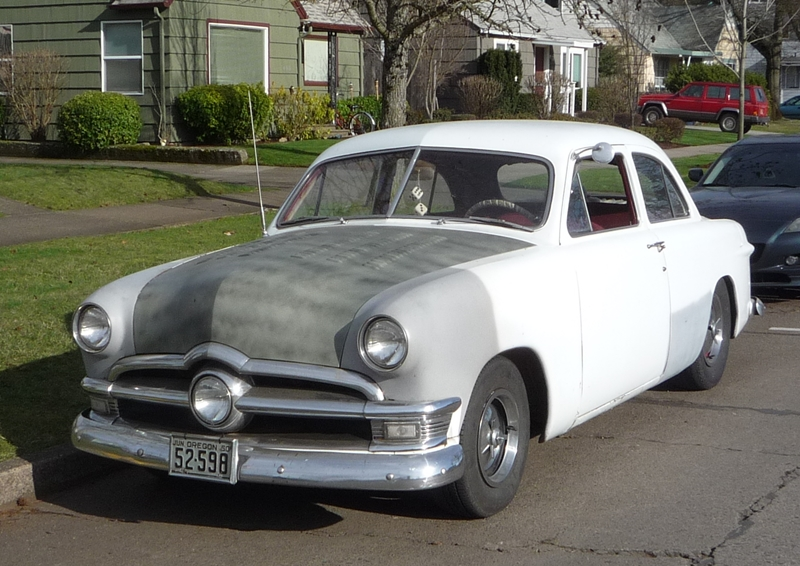 A successful long-term relationship to a car or spouse is an endless work in progress; the minute you lose interest…Well, these two never have, in each other and the car. And its not just that Jerry (I might be wrong with that name, sorry) keeps two parallel relationships going; no this is a genuine ménage à trois . As a perfect example of that, his wife recently gave Jerry the gift of that louver job on the Ford's hood. How many of your SOs have given you a louver job, recently or otherwise? I thought so.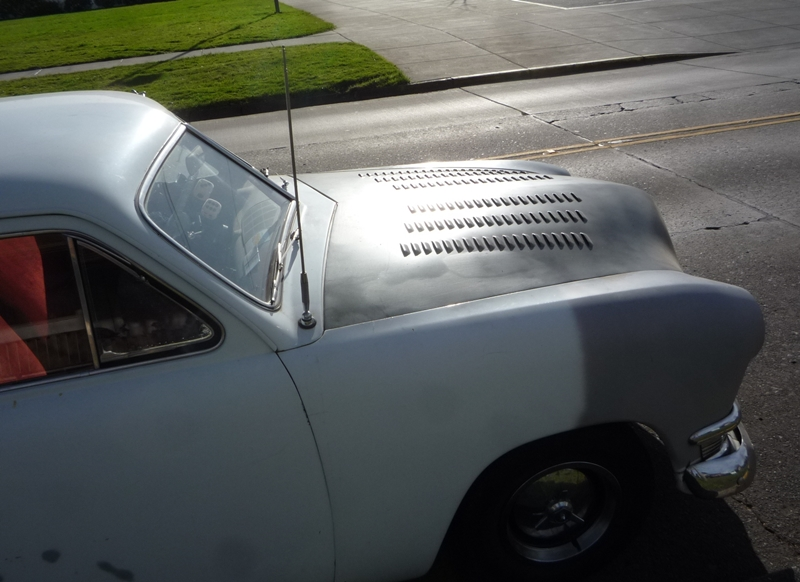 Please note that came after some forty years of marriage, so there's still hope for you. But what starts with an insignificant necker's knob grows, with the right nurturing. And it may not end there either; as I said earlier, marriages and old cars always have scope for new growth or louvers. This beloved '50 Tudor is anything but finished; there's a paint job down the road, some interior work, new seals and rubber…it never ends, until it does. So all you guys contemplating an old car: maybe it's better to get a project that you can both get involved with rather than that perfectly restored red 'Vette, which might become your mistress, but one that you tire of after it's too late.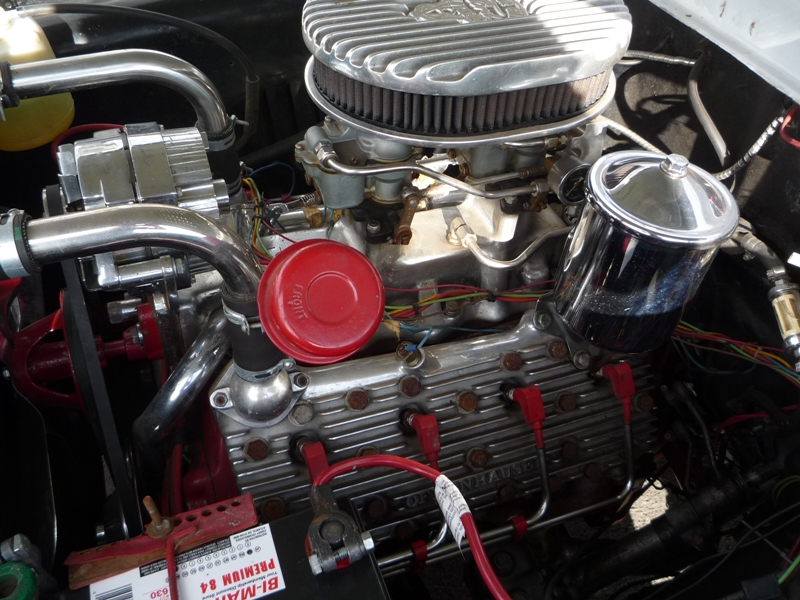 All right, enough of the relationship stuff. Let's talk a bit about the enduring object of Jerry's affection. Since love starts with a beating heart, let's jump right to the Ford's ticker. I don't remember all the details, but I know it's a nicely built 276 cubic inch Mercury engine. That would mean it's been bored one-eighth over, a safe thing back in the days of non thin-wall castings. The more adventurous souls would go three-sixteenths over, but that's not exactly the recipe for the conservative monogamous types. And I remember that it has Holly carbs; two of them, obviously. And probably all the other goodies to make a nice long-lived streetable ride. Don't want to get too racy with triple carbs here.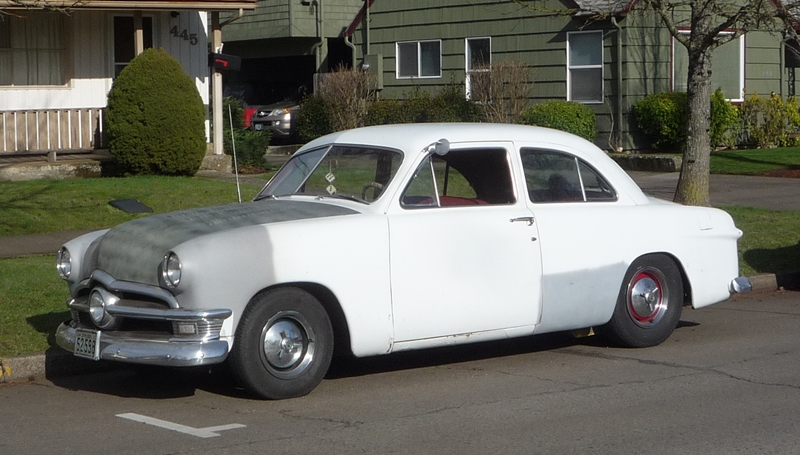 The 1950 Ford was almost totally unchanged externally from the groundbreaking '49s. It wouldn't be an exaggeration to say that the '49 Ford was both the most changed and most important new Ford ever. A very young Henry II had to take over the wreckage of a company in 1943 that was losing $10 million per month despite war time contracts, after his father Edsel died. The new 1949 models were going to be absolutely critical in reestablishing Ford. He hired both experienced execs and the "Whiz Kids", and gave several studios the opportunity to compete for the styling. One by independent stylist Richard Caleal was picked over the various in-house designs, and put into production almost perfectly unaltered.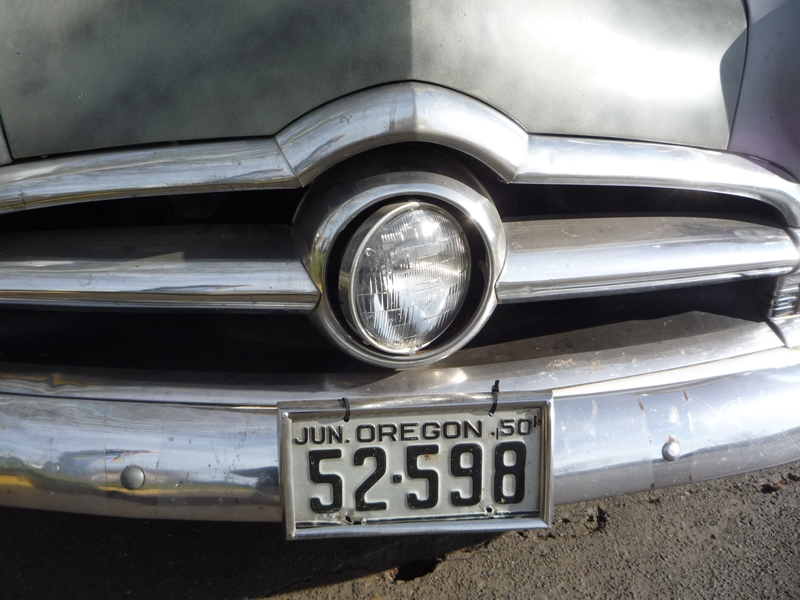 On our featured love object, the central grille ornament, a sort of ball or spinner with the number "6″ or "8″ embossed on it to denote what was purring behind it, has been replaced with a novel headlight that swivels with the front wheels. It was a kit that was sold for this purpose, and used cables connected to the steering gear. And who thought that the Citroen's swiveling headlights were something new?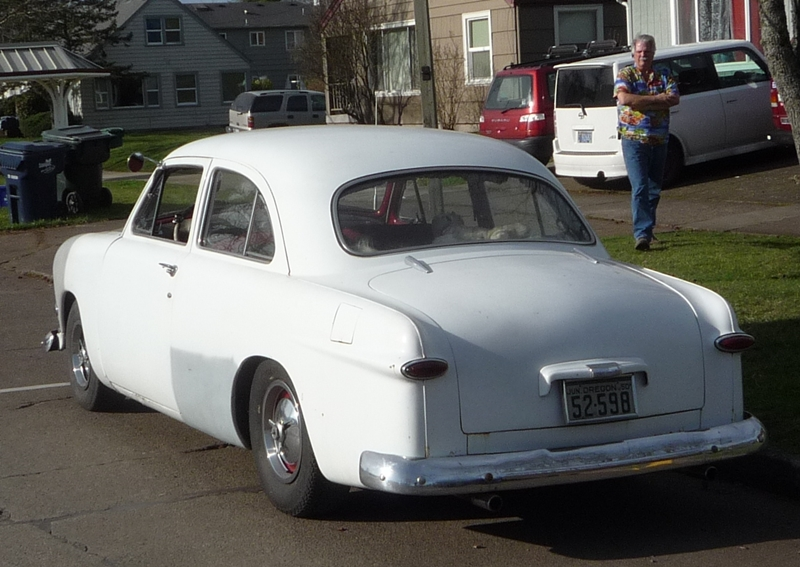 The 1949 Ford was a handsome, clean and timeless design, not unlike its owner in the picture above giving his beloved a knowing and admiring glance. The original didn't have the rear wheel cutouts like our featured car (was that a gift from his beloved too?).  Here's a shot of the original. And it wasn't just the good looking body either; for the first time ever, a Ford didn't have the Model T's transverse leaf springs, or the torque tube drive shaft. It was almost a clean sheet design, except for the power plants. The six and venerable V8 were of course carried on, but lo and behold, the all new Ford actually weighed a couple of hundred pounds less than its predecessor, despite the wider and roomier body.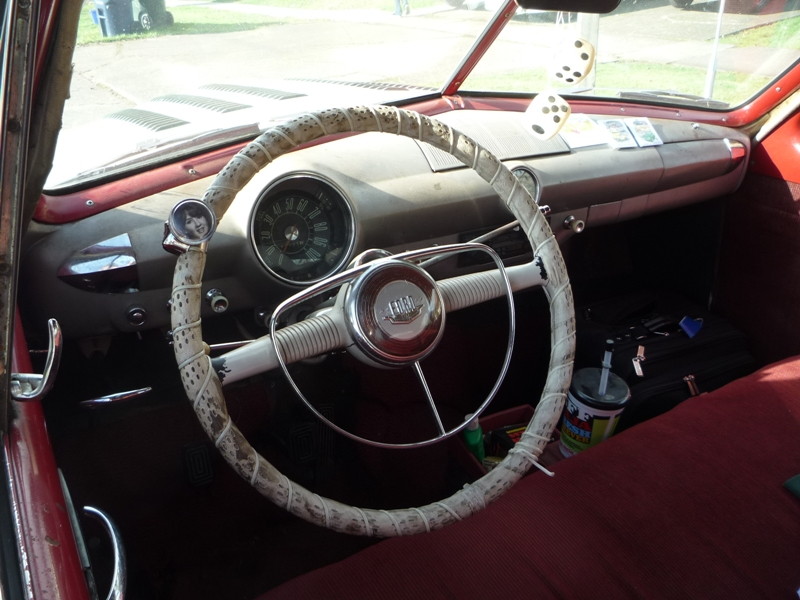 That made it the lightest and most powerful of the Big Three, which of course means the fastest. Ford maintained its old reputation first established with the '32 V8, and was the police car of choice, especially when the bigger Mercury engine was installed. But despite the popularity of the legendary flathead V8, the six was probably the better choice for most drivers. It only gave up five horsepower to the eight's one hundred, but had a much better torque curve. That all becomes irrelevant the minute one lifts that louvered hood: one of the most iconic engines, dressed to kill with those Offenhauser aluminum high compression heads and the two-carb setup. And when that unmistakable Ford burble starts streaming from the twin pipes, it's suddenly springtime 1964 again. Cupid has shot his arrow well.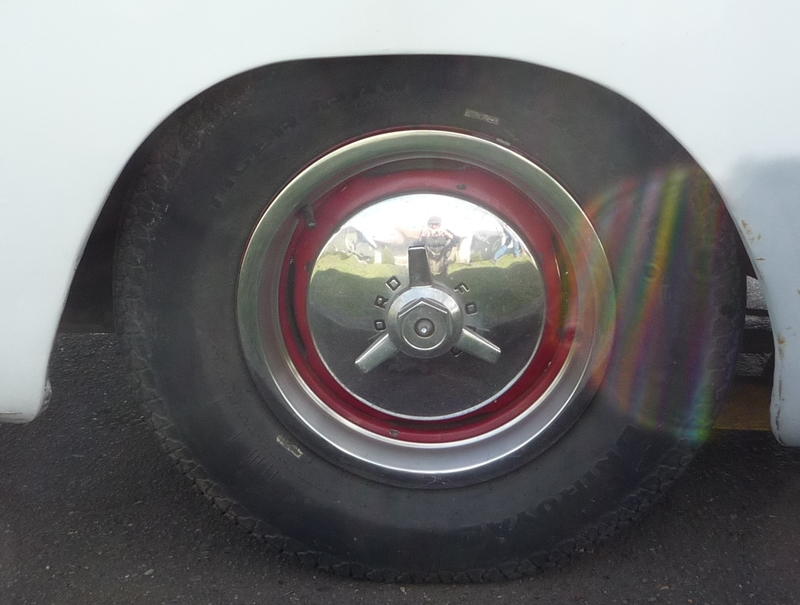 The new Fords were a big hit, and people lined up to plunk down their war earnings for one. Not surprisingly, like with so many all-new cars, the first year was plagued with various maladies. Ford proudly proclaimed that the 1950 models were improved "in fifty ways!", and apparently they were. But the lesson was not lost on this owner: he knew a keeper when he saw it, given that his Ford was some fifteen years old already when he shelled out his $15 for it.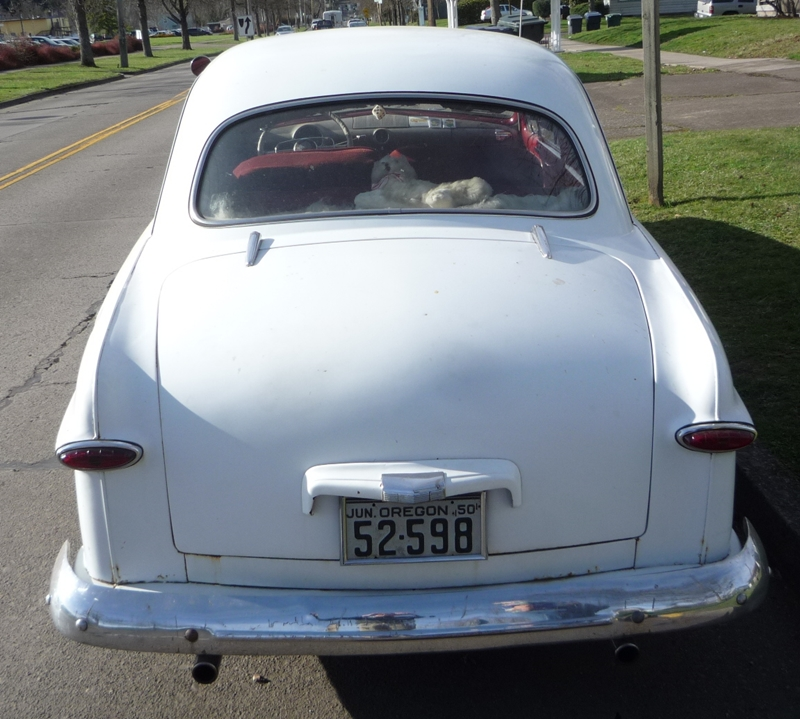 The new '49s saved Ford's and Deuce's bacon; the company that was almost taken over by the government during the war (Bail Out!!) was now again on firm footing, and within a few years the Fords would take the company public, keeping a special class of stock exclusively for themselves. These cars went on to be popular with the hot-rod crowd for the obvious reasons, and it wouldn't be stretching it to say that the '49-'51 Ford WAS the '55-'57 Chevy, until it came along. That is, for some. For the loyally committed, Chevys were the hot new seductresses in short(er) skirts and with bigger boobs. Some fell, others didn't.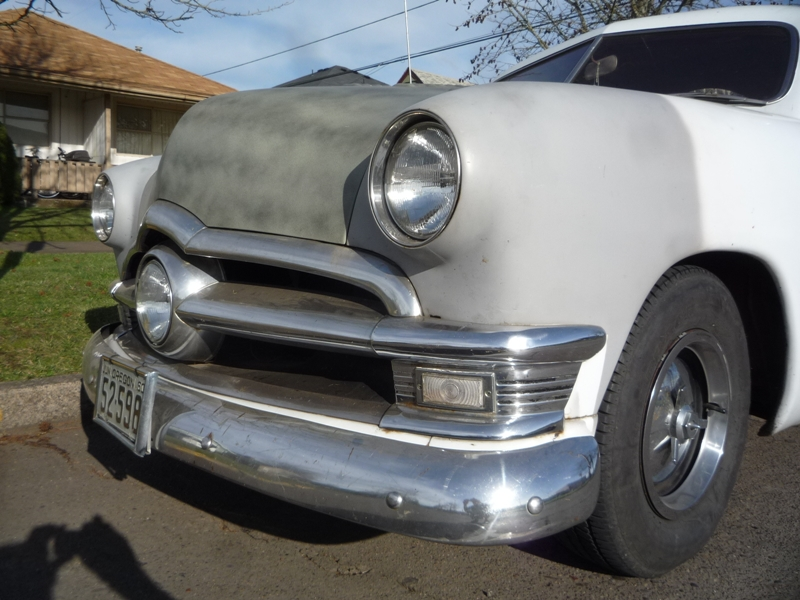 Now that I've revealed Jerry's secret to a long-lived relationship, you might well be tempted to take it up too. (I'll pass; I've managed 33 years without one, but don't let that stop you). Necker's knobs with a clear removable top to display your true love are available at e-bay, for a mere $8.99 (Buy It Now Price). Much cheaper than all the couple retreats and counseling, by a long shot. And all that money saved from nasty divorces will get you enough louver jobs to keep your Ford well ventilated. If you picked well, that is.