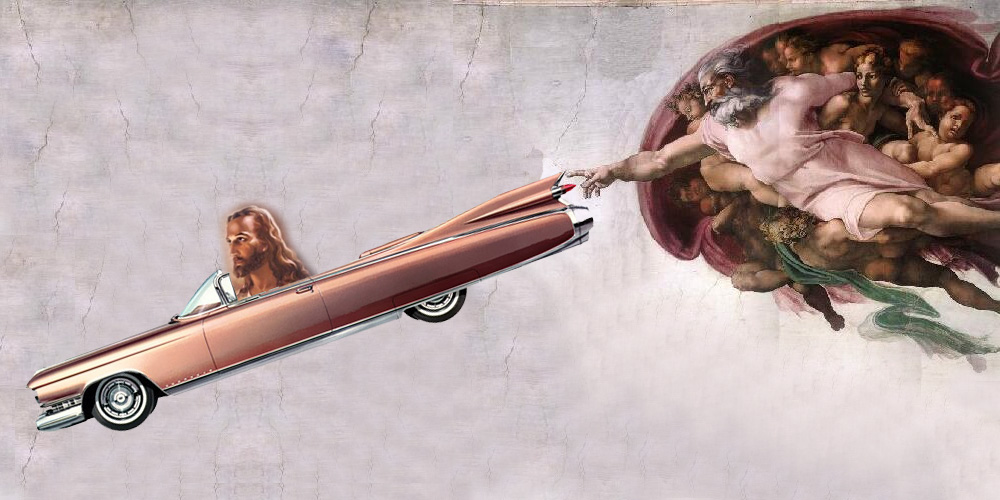 Memoirs of life as seen and experienced through cars
Paul Niedermeyer's Auto-Biography Series:
High Speed Assimilation: NYC 1960 
Getting Religion: The Cult Of GM 1961-1964

Sometimes It Is About the Destination: 1962 Ford Fairlane
Autology: Advanced Studies In Automotive Obsession
Learning From Big Brother: 1957 MGA
Getting Paid To Break(In) New 1971 Fords
The Hitchhiker's Guide To The Galaxie 500 And Other Rides
Somewhere West of Ogallala: 1969 Plymouth Fury
Bug Tales:  Bug Tale 1: The Rolling Igloo   Bug Tale 2: Timing Is Everything
Bug Tale 3: Beyond Drafting   Bug Tale 4: Abrupt Change Of Consciousness
Bus We Must: Iowa City Transit Bus Driver
The Dream-mobile: 1968 Dodge A100 Van
How I Came To Be A Professional Pre-Production Test Driver of the Pontiac Iron Duke Engine

Peugeot 404: The Holy Grail Found
1980 Buick Skylark: I Gave Up A Peugeot 404 For A GM Deadly Sin And it Wasn't All That Bad
Chronologically later chapters:
The Great American Anti-Towing Conspiracy (1985)
Maserati Dreamin' (2009)
(Immobile) Curbside Classics: One Coming Down (2011)
Glacier Or Bust: Zen And The Art of Roadside Repairs (2011)
My New Curbside Classic: Peugeot 404 (2012)
Michael Freeman: The Cars Of A Lifetime Series

1968 Volvo 142S: What Is This Pedal For?  (Car 1)
The White Rabbit: Keep Your Head  (Car 2)
Unforgettable Driving Lessons: 1978 Ford F-100 (Car 3)
Alaska Or Bust: 1978 Toyota Corona Wagon (Car 4)
Speed Kills: 1993 Hyundai Excel (Car 5)
Busted Flat In Blue: 1985 Ford Courier (Car 6)
The Mailman Never Knocks: 1981 AMG DJ 5  (Car 7)
There's A Rebel Under That Hood: 1973 International 1110 Pickup (Car 8)
GM's Immortal Sin: 1980 Chevrolet Citation (Car 9)
The Hippie Lifestyle Goes Up In Smoke: 1978 VW Bus (Car 10)
How To Kill Your 1978 Rabbit: A Manual Of Step-By_Step Procedures For The Compleat Idiot (Car 11)
Fahrvergnugen: 1980 VW Scirocco (Car 12)
The Long, Slow Trip: Peugeot 504 Diesel Wagon (Car 13)
Ride Swapping And Hill Hopping: 1968 International Scout (Car 14)
Slower Than A Turtle On Valium: 1982 VW Vanagon Diesel (Car 15)
Old Faithful: 1957 International S120 4×4 (Car 16)
One More Time Around: 1979 VW Bus ASI Riviera Camper Conversion (Car 17)
So Proud To Live: 1979 Jeep Cherokee (car 18)
Der Edelkampfwagen: 1981 VW Rabbit (Car 19)
1984 Audi 4000S Quattro (Car 20)
1982 Chevrolet Suburban: Or What's The Worst Vehicle You've Ever Owned (Car 21)
1984 VW Diesel Pickup: Old Rabbit Habits Are Hard To Break (Car 22)
1985 Ford LTD: A Decrepit Cougar Is No Panther (Car 23)
1973 Dodge Dart Swinger: A Pauper In Gold Lamé (Car 24)
1987 VW Quantum: An Audi Of Solace (Car 25)
1973 Dodge M688: Soldiering On Bravely Until The End (car 26)
1987 Toyota 4×4 Van: You Just Can't Kill It No Matter How Hard A Certain Someone Tries: (Car 27)
1979 Chevrolet Suburban: It Just Keeps On Grinding On
1988 Ford Diesel Van: A Killer Van Or Big Ugly Number Two
1995 Land Rover Discovery: The Best Four By Four By How Far?
1989 Saab 9000 Turbo: What Kind Of Story?
1948 Willys Jeep CJ2A: The Best
1984 Toyota 4×4 Pickup: How The Japanese Do Four Wheel Drive
1989 Toyota 4×4 Van: The Second Death Or History Repeats Itself
1980 VW Vanagon: Vanagonangian Or Some people Never Learn
1985 Ford Bronco II: The Energizer Bronco
1984 VW Rabbit GTI: The Black Death
1986 Jeep Comanche 4×4: Old Soapy
1991 Lexus ES250: Luxury for the Proletariat
1964 Land Rover Series II1 109″ Wagon: Dreams Are Made Of Rust
1984 Nissan 720 4×4 Pickup: What Can Brown Do For Me?
1986 Chevrolet 4×4 Van: Once We Were Lovers
1987 Volvo 245: Practically Sensible And Serenely Safe