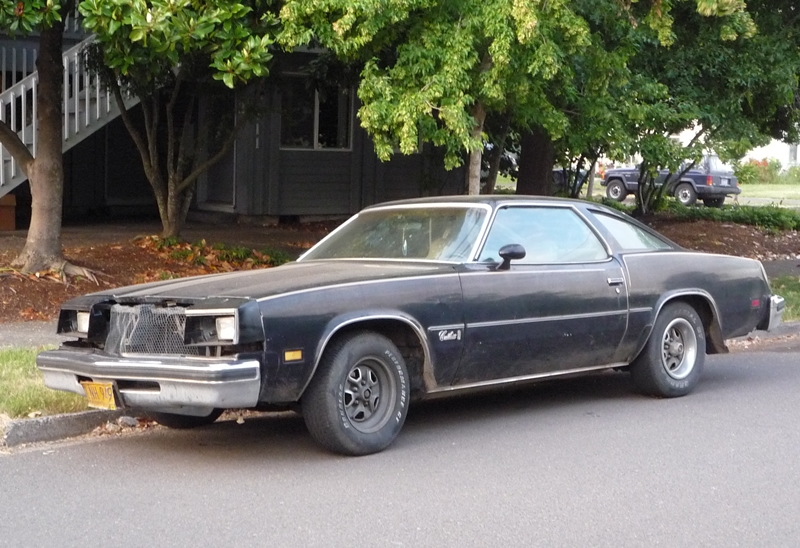 What the hell is a colonnade anyway? And what's it got to do with a car? Those were the second and third thing that popped into my head when I first saw the all-new '73 GM mid-sized cars. The first: Holy Shit!
And that's what came to mind again, when I first encountered this Cutlass.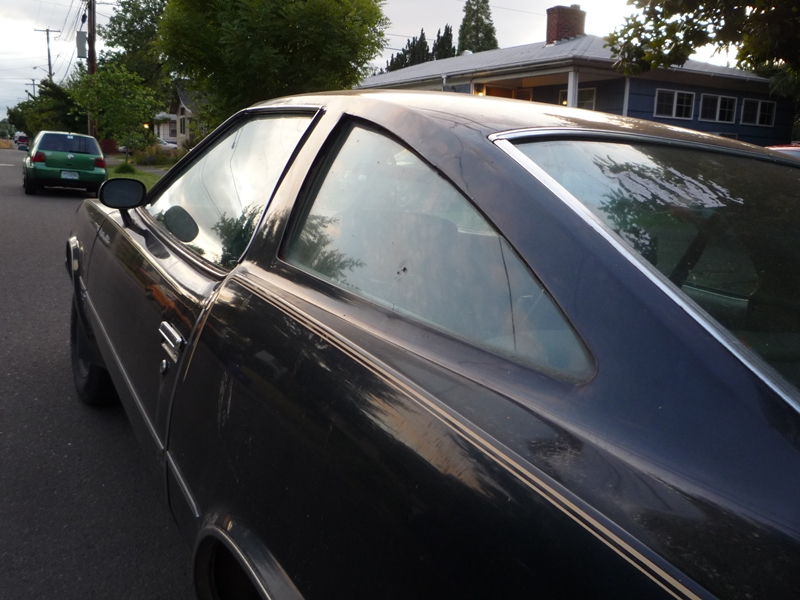 GM had pulled a few surprises on me before (1970 Camaro), but these mega-big and drastically different cars were totally unexpected. In one fell swoop GM doomed the hardtop style–which it so proudly invented in 1949– to be consigned to the ash heap of history. Well, maybe just as well, as our recent CC DS makes quite clear: GM was hardly getting any better at mastering the structural challenges of that design, especially the four door versions.
For you younger readers, let me clarify: it was a very different world back than in terms of advance knowledge of redesigned cars. The makers famously tried to keep their new models under wraps, literally, until the assigned release date. Brenda Priddy was still spying on her big brother and extracting blackmail from him. Yes, there were the very occasional spy shots in Pop Science and such, but maybe I wasn't reading them by then.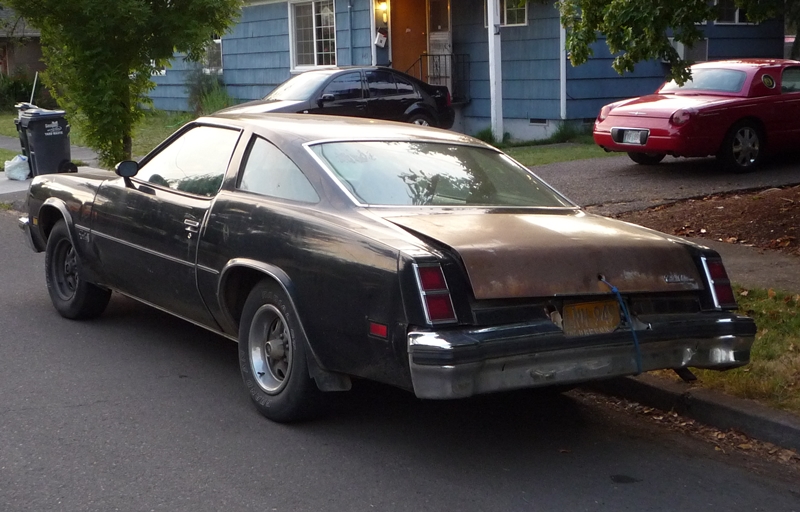 Let's just say that the first time I laid eyes on a Colonnade Coupe was in a print ad for a Cutlass Coupe. That goes for the 1970 Camaro as well: imagine having zero idea about what the 2010 Camaro was going to look like until you saw it in an ad one day…Holy Shit indeed. The element of surprise at anything really new or different long went out of the car business.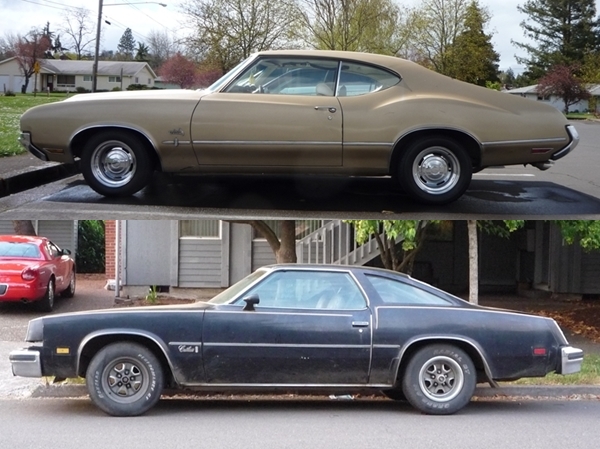 These picture may not do full justice to just how different the new Colonnades looked and felt compared to their predecessors. But how radically different the back seat passengers felt was indisputable: like shit. Sorry, but that word just keeps popping out today.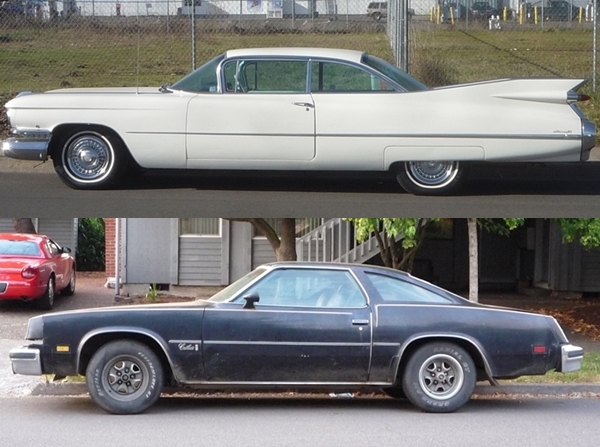 The sloping roof line which forced your heard forward and that giant rear window to burn your neck were bad enough, and brought back memories of similarly unpleasant experiences in the old GM "bubble" hard tops of yore, except for one or two very big differences: that huge middle column (a colonnade is a series of them, btw) was right where you might just possible want to look out at the world. And the fixed rear window, which was almost totally behind one anyway, was fixed. Rather than Colonnade, how about Abu Graib?
It was all part of a plot to force everyone to by the highly optional and none too-cheap Comfortron Air Conditioner, one of the early automatic jobs with the thermostat (just like at home).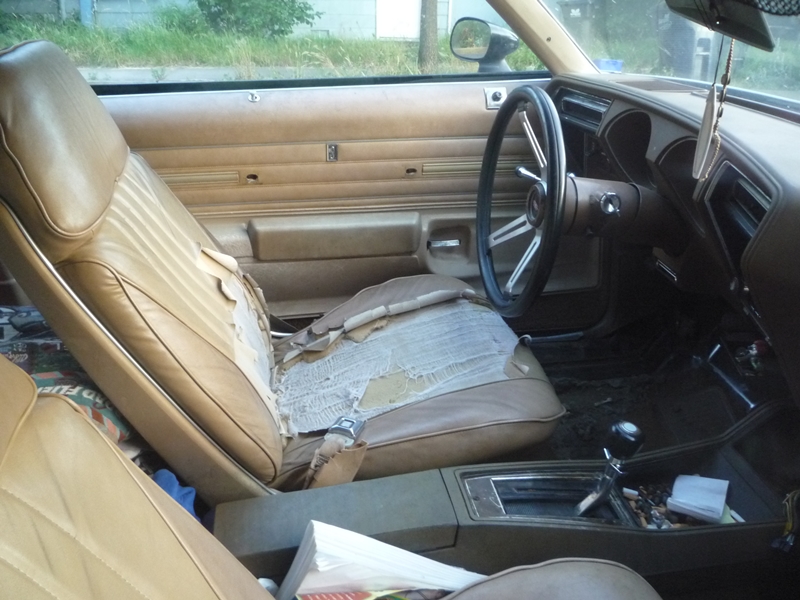 Order up enough options though, like the highly recommended 455 V8 with 250 (net) hp, automatic, AC, and and a few other goodies, and not only would the Cutlass coupe's roof evoke the '59 Caddy, but it would weigh about as much too (4,800 lbs). Really great timing, these bigger, fatter 1973s were: within a year of their arrival, the first energy crisis would unfold. I bet Holy Shit was said more then once at GM headquarters.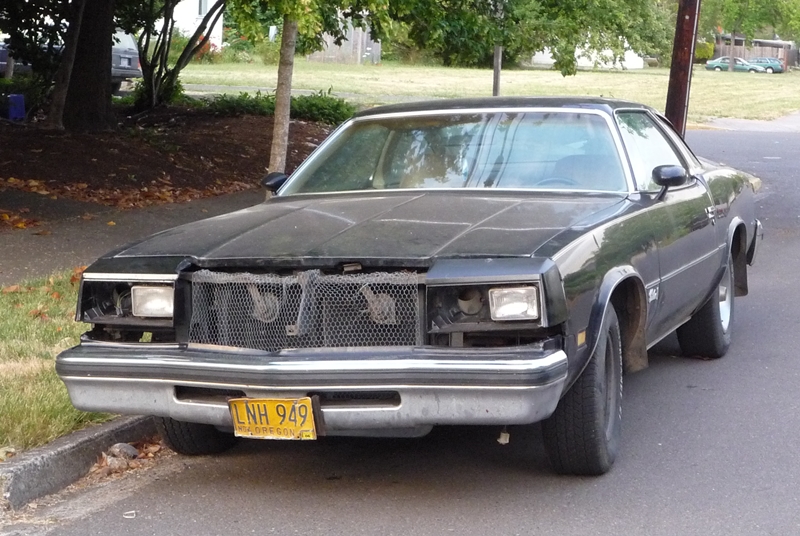 The solution: down size the engines, not the car (that would take a few more years). In 1973, the Cutlass had a 180 hp 350 V8 as standard, and the 455 was optional (and not at all uncommon). By 1976, the Chevy 250 six sporting 105 hp was now the standard engine, along with the infamous 260 cubic inch V8 (4.3 L) that trumped the six by a full five hp. Yup, the 110 hp chicken-shit Rocket.  But a five-speed stick was now available, to help jack up the EPA mileage more than any real driving pleasure.
If you didn't care about such things, the 350 and 455 were still available, although with reduced power output: 190 hp for the 455 (7.4 L) . That's starting to scrape at the bottom of the barrel for output per displacement.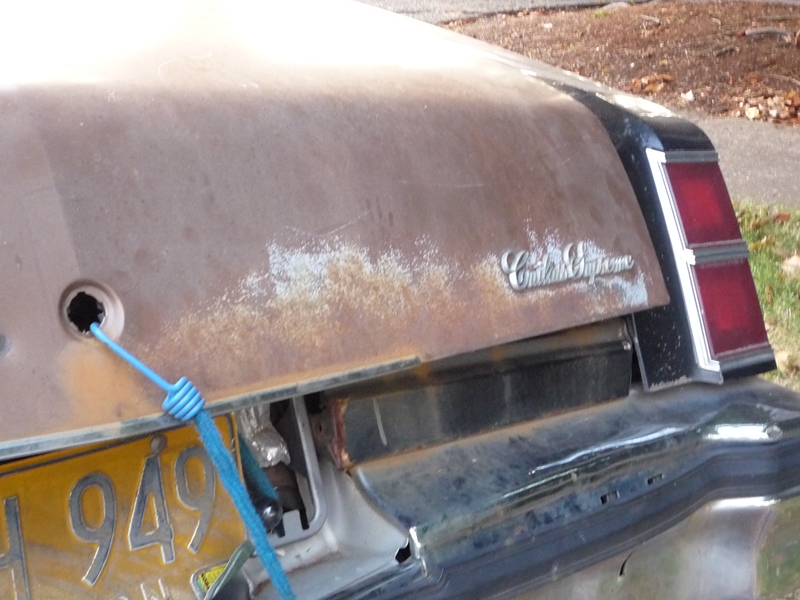 I'm quite fond of this particular example, and not just because it's the only one of its kind still around. Colonnades are getting mighty scarce on the ground. It was a regular driver until quite recently, and it now shows off its monkey-bottom from the far end of the driveway. But it's busted up face and general demeanor suits it well: I don't give a shit what you think.