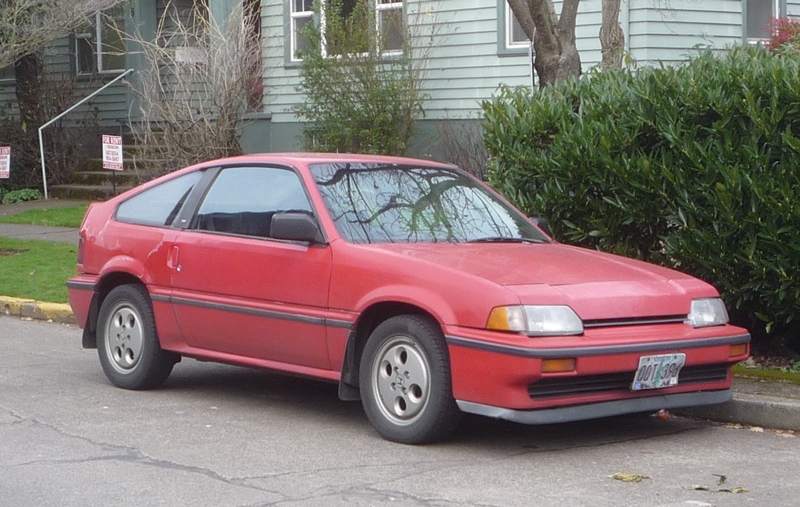 Acura
1988 Integra LS: A Hot Hatch For The Civic Minded
1989 Legend: The Empire Strikes Back  Brendan Saur
1994 Legend: True Life: "I'm A Legend"   Brendan Saur
1997 Integra: Not Just A Fancy Honda (My CC)
2004-2008 TL  (Future Classic)   Brendan Saur
2010 TSX (COAL)  Brendan Saur
Daihatsu
1989 Charade: Treat and Retreat
Datsun/Nissan/Infiniti
1963 Datsun 312 Bluebird (Capsule)
1967 Datsun Sports 1600/Fairlady (SPL311): My Fairlady's MGB
1969 Datsun 510/Bluebird/1600:   How To Fly   Paul N
1971 Datsun 240Z: Revolutions Don't Come Often
1972 Datsun 1200 – Two Door Sedan, Size XS  Paul N
1972 Datsun 1200/Sunny: The Yang To The 1972 Cadillac's Yin
1974 Datsun 610: Datsun Takes A New Direction:Down
1974 Datsun 710 Wagon: Third Time's The Charm; Or Not
1977 Datsun King Cab Pickup (620): Yes We Have Long Legs In America
1977 Datsun 200SX (Nissan Silvia S10): The Many Faces Of Silvia
1977 Datsun F-10  It Got An F In Beauty School   Paul
1979 Datsun 510: Revived In Name If Not in Spirit
1980 210 Sedan: The Humble But Well-Traveled Datsun 210
1980 Datsun 210 Sunny Woody Wagon: The CC Manifesto
1982 Datsun/Nissan 810 Maxima Diesel Wagon: Bitching Betty
1982 Nissan Stanza – Queen Dork   Perry Shoar
1983-1986 Nissan NX   Mike Butts
1983 Datsun 300ZX   Tom Klockau
1986 Nissan Stanza Wagon (Prairie) The First Modern Mini-Van
1983 Nissan Pulsar Five-Door: So Rare I Almost Forgot It Existed
1985 Nissan Sentra/Sunny (B11) – A Fish Out Of Rodeo Drive
1987 Nissan Van: How Did This Turkey Avoid The Crusher?
Nissan 200SX Turbo – Unused, Unloved, Unlocked   Perry Shoar
1988 300 ZX The Z Tosses Its Leisure Suit   Tom Klockau
1989 Nissan 240SX and SX/Silvia History   Paul N
1990 Infiniti Q45: l'm Good Enough, I'm Smart Enough, And Doggonit, People Like Me  Perry Shoar
1990 Nissan Axxess (Prairie gen2) – Access Granted For One Year Only  Paul N
1991 Figaro: More Anime Than Animal
1992 Infiniti M30: Swallowed Up In The Memory Hole
1993 Nissan 300ZX Convertible – Out of touch, out of time   Perry Shoar
Nissan Quest and Mercury Villager: Official Car of Washington Heights  William Stopford
Ford Australia
1976 Australian Falcon XC 351 GT Ute Found In Oregon: This Time For Real  Paul N
2004 Falcon XR6   William Stopford
Holden
1965-66 HD Holden Special Station Sedan: The Down Under, 3/4 Scale 1962 Oldsmobile
Statesman DeVille (HZ): If We Can't Export Our Cars, We Can Export Their Names
1994-1995 Holden VR Caprice: Broughams Down Under
Honda/Acura
1970 N600: From Rolling Acorns Mighty Hondas Grow
1973 Civic: The Second Little Revolutionary   Paul N
1976 Accord: Modern Architecture
1979 Prelude: "A Splendid Automobile"?
1980-1983 Civic:  The Best Small Car by Unanimous Consent  Paul N
1980 Civic Wagon: Don't Throw Your Baby Away!  Perry Shoar
 1982 Accord: Honda Revolutionizes The US Industry, Again
1982 Civic: The First Car of a Lifetime  Carlo diTullio
1983-1987 Honda Prelude – New Priorities  Perry Shoar
1985 Accord: Canary In The Coal Mine For The Traditional American Sedan  Jim Grey
1986-1989 Accord: Ignoring The Future In Favor Of The Present  Perry Shoar
1987 Honda Civic 4WD Wagon (Shuttle): The Automotive Swiss Army Knife
1990 Honda Accord – Naturalized Citizen   Perry Shoar
1991 Beat: And The Beat Goes on (In Canada) (CC Capsule)
1991 Prelude Si: Improving The Original
1991 Honda Civic Hatchback: Citizen Of The World  Perry Shoar
1990 Civic Coupe PGM-FI (Canadian Version)
1992 Acura Vigor: The Closest Thing to A Real Hardtop
1992 Civic Coupe  (Capsule)   Paul N
1993 Concerto TD  (UK): When Is A Honda Not A Honda? Roger Carr
1995 Odyssey   Jim Cavanaugh
1996 Honda Accord Wagon – You Might Think It Was the Last of the Breed
Hyundai
1988 Excel: The Damn Near Deadly Sin
Atos: A Long Way From Home, And Bleary
Isuzu
1982 I-Mark Diesel: Still Clattering Away  Paul N
1986 I-Mark  (COAL)  Jim Klein
1988 I-Mark    Jim Cavanaugh
1988 Isuzu Pickup: No Soup For You!  Perry Shoar
1991 Rodeo  Dave Skinner
1996 Oasis   Jim Cavanaugh
1999 Hombre: When Is An S-10 Not An S-10?
Vehicross: The Ultimate Anti-Corvair? (Outtake)
Kia
Lexus
The Lexus ES – Lexus' Greatest Hit Or Greatest Regret?
1992 SC 400  Excellence In Motion  Steve Lang
1998 Lexus RX 300 – A Teaching Moment
Leyland Australia
Leyland P76: Australia's Edsel
Mazda
1973 808 (aka 818/Mizer/Grand Familia)
1974 Mazda RX-4 Rotary Wagon – Still Spinning
1979 626 Coupe  (COAL)  Jim Klein
1981 GLC/323: Truly The Greatest Little Car Of Its Time?
1981 GLC/323 RWD Wagon: Not Quite So Great
1983 Mazda GLC, Gen Two: The First Really Modern Mazda
1988 FC3 RX7: Middle Child Syndrome
1990 MX-5 Miata   Roger Carr
1991 929S: It's As Big As A Cadillac
1992 MX-3 GS: Smallest Production V6 Engine Ever?
2000 Millenia S: Identity Crisis
Mitsubishi
1983 Starion – Or Is It Stallion? – Did I Finally Solve The Mystery Of Its Name?
1982-1988 Mitsubishi Cordia: The Last One?
Express Van   William Stopford
1992 Eclipse: A Victim Of Its Target Demographic
1994 3000 GT SL    Jim Grey
Mitsubishi Delica Space Gear 4×4 Van: It Checks All The Right Boxes Except One (Capsule)  Paul N
Subaru
1968 360: It All Started With This Little Rolling Wart   Paul N
1968 360 Sambar Van (Capsule)   Paul N
1977 4WD Wagon (Leone) It Started The Subaru AWD Legacy   Paul N
1979 FE  (COAL)   Richard Wayman
1982 DL 4WD wagon   Jim Klein
1984-94 DL/GL/Loyale: Loyale With Cheese
1984 Subaru GL Hardtop Coupe – A Requiem For The Affordable Hardtop   Paul N
1985 Subaru XT: Forward To The Future In 1985
1988 Justy 4WD: The Mother Earth News Mobile
1989 Justy – Extra Justification
1990 Loyale (Capsule)   Paul N
1990-94 Legacy: The First Generation
1992 SVX: A Price Point Too Far
2000 Forester: The True Cost Of Ownership So Far
Suzuki
Carry KC 4WD Kei truck   Paul N
1989 Swift GT   David Saunders
1996 X-90: Barbie Would Drive One Of These
Toyota
1970 Corona Mk II    Dave Skinner
1971 Corona Mark II: Some Things Never Change
1971 Corolla: 1971 Small Car Comparison No.3
1972 Corona Coupe: Fortieth High School Reunion
1974 Celica ST Coupe   Paul N
1975 Corolla: Indelible Memories Of The Open Road
1976 Corolla Liftback  Paul N
1978 Corona: Baseball, Apple Pie and A Corona
1978 Cressida Wagon    Tom Klockau
1979 Celica Supra Mk1: "Plush, Lush; The Powerful Pleasure" Or The Lexus Of Celicas (Classic CC)
1979-1982 Tercel: Toyota Nails Another One   Paul N
1979-1981 Celica Sunchaser   Dave Skinner
1980 Corolla: The Datsun 510 Doppelganger
A Gallery Of Toyota Vans: The Official Van Of Eugene
1981 Starlet: The Last OF The Littlest RWD Toyotas   PN
1982-85 Celica Coupe And Liftback: Rice-fed Mustangs
1984 Tercel Wagon: Built For The Really Long Haul
1984 Corolla Diesel: Latecomer To The Diesel Party
1985 Celica Supra MK II: The Best-Built Camaro
1985 Corolla GT-S: The Legendary AE86
1986 Camry: Toyota Builds A Better Citation, Forever
1986 Cressida: The Proto Lexus
1986 MR2   Tom Klockau
1986 Toyota Turbo Pickup: Get Tough, Get Turbo  Ben Dinger
1986 Cressida (COAL)  Jim Klein
1987 Corolla FX16: When Corollas Still Induced Lust, Not Sleep
1987 Supra: Somebody Still Wants You
1988 Corolla FX: Not Even Broken In Yet   Jim Grey
1988 Toyota Land Cruiser: Keeping The Faith  Perry Shoar
1989 Toyota Mr2 SC – That's Mr Two To You   Ed Stembridge
1990 Camry V6 (Driving Review)  Paul N
1991 MR2: A Camry In Italian Drag
1992-96 Camry: The Greatest Camry Of All Time?
1992 Corolla: The Almost Free, Almost Perfect Beater
1992 Toyota Sera: Wings Don't Make It Fly
1994 Previa All-Trac (COAL)   Mike Lakusiak
1995 Tercel: Last Of The Mohicans  Perry Shoar
1998 RAV4 Two-Door: The First Modern CUV, And Electric One Too
1994 Paseo: Gone, But Not Forgotten (My CC)
2001 Prius: Toyota's Big Hybrid Gamble Pays Off  Paul N
2002 Echo: The Yaris Gets Hit With The Ugly Stick  (Capsule)
2003 Matrix XRS (COAL)  Jim Grey
2004 Camry: I've Got A Symbol In My Driveway
2004 Highlander   Brendan Saur
2013 Century: The Ultimate Brougham Time Machine
Toyota Trucks
1965 FJ Land Cruiser: The First Toyota Sent Out To Conquer The World   Paul N
1970 FJ55 Landcruiser: You Haven't Aged One Bit!(Capsule)
1970 HiLux pickup (gen1)
1976 Toyota Cortez Pickup Extended Cab (Capsule)
Toyota Lo-Lux Pickup – The Minimalist Edition   Paul N
1982 Truck: When Compact Pickups Roamed The Land
1993 T-100   Paul N
Miscellaneous